Monday 28th January 2013
Kia Pro_Cee'd - details
Kia joins the hot hatch party with a GT version of the new Pro_Cee'd
---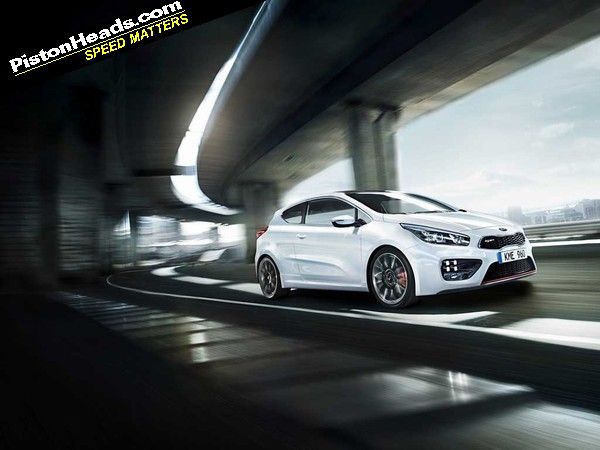 So,
we already knew
Kia's new Pro_Cee'd and Cee'd GT would pack a 204hp, 1.6-litre turbo, come in three- (Pro_...) and five-door (Cee'd) formats. But, bar some teaser sketches, we didn't know what it would look like.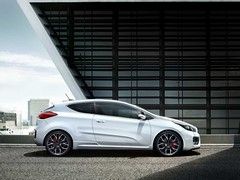 New Pro_Cee'd three-door spawns GT version
Rather smart, it turns out. Ahead of its Geneva debut in March Kia has released a batch of official pics of the new three-door Pro_Cee'd in its new fire-breathing GT spec, red brake calipers and all. Fire breathing? OK, that's perhaps a little strong. But having conquered the style and reliability high ground thanks to, respectively, designer and now big boss Peter Schreyer and those famous long warranties Kia clearly now fancies adding desirability to the reasons you might choose a Cee'd over the more established rivals.
Even in standard form the new Cee'd is a handsome thing, Schreyer's now trademark 'Tiger's nose' (we think this probably should be in the Viz Profanisaurous somewhere but can't quite think why) heading up a confident, sculpted body with great visual strength and balance. Aforementioned red calipers, Recaro seats and a host of other 'sporty' baubles tick all the boxes too. Will we look beyond the badge though? As ever, that's going to be big question but, on paper at least, the GT has enough oomph to live up to the name. And, if nothing else, promise some significantly reduced times on Top Gear celebs' leaderboard. Still reasonably priced though? We'll see about that.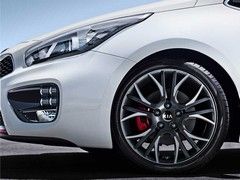 Red brake calipers - clearly fast in that case
Has Kia got the chassis know-how to go head to head with established European rivals though? The official line is downplayed, 'it's a warm hatch, not a hot hatch' humility, which is probably a sensible tactic given that if they were going the whole hog they'd be expecting to outplay the likes of the Focus ST, Megane 265 and impending Golf GTI at the first go.
Rather Kia has taken aim at some (slightly) softer targets like the Scirocco and Astra GTC, the VW available with a 210hp 2.0-litre while the most potent non-VXR Astra packs 180hp from a turbo 1.6. The Scirocco costs - at a bare minimum - £27.5K while the Astra in SRI trim starts from a rather more reasonable £22K. 204hp driving through a six-speed manual Kia is promising 0-62mph in 7.9 seconds, which doesn't tell us a whole lot but it should at least be what we'd consider 'brisk' if not actually fast.
UK sales of the three-door Pro_Cee'd GT start in the summer, the five-door Cee'd GT to follow later in the year. Expect more pricing and spec details around Geneva.
Gassing Station | General Gassing | Top of Page | What's New | My Stuff