Friday 1st October 2010
Pic Of The Week: Jaguar C-X75
Jag's advanced design director picks his favourite for PH
---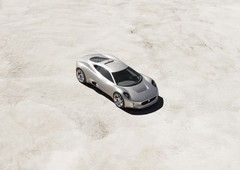 The water bottle was tilted this way...
Sharing a taxi to work this morning with Jaguar's Advanced Design Director Julian Thomson (as you do), he seemed quite chuffed when I mentioned the C-X75 concept was going to make Pic Of The Week on PistonHeads.
Who better to choose the perfect image, I thought, and Julian duly obliged by demonstrating his favourite angle from the front passenger seat with the aid of the plastic water bottle he was clutching. (The Jag design team was out on the town in Paris last night, celebrating the C-X75's success at the motor show. A very late one, by all accounts...)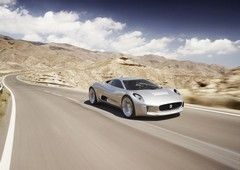 ...or was it this way? Hmm...
Checking the press pack shortly afterwards, I inferred he must have meant one of these two. Because I'm not sure exactly which, we offer them both as POTW.
Either way - nice work Julian! (And when a decent Civic Type R turns up in the PH classifieds we'll let you know.)
Overhead view:
Normal (1280x1024)
WideScreen (1440x900)
SuperSize (2048x1536)
Winding Road:
Normal (1280x1024)
WideScreen (1440x900)
SuperSize (2048x1536)
Junglehop said:
Meh....

Give me one of them new Elans
Isn't it great to have that sort of choice all of a sudden?

Okay the Jag is only a concept, but you know what I mean. When you factor in environmental woes and a pretty severe economic depression we're actually pretty well served for car-porn at the moment.
Furthermore, the proportions of this new car are very different to the XJ220. The 220 is a very cab-forward design, with a short nose, long tail, and the driver fairly near the front of the car. The CX75 is quite different; the nose is longer, the glasshouse further back in the wheelbase. There are elements of the XJ220 (and why not - 22 years after the concept was first shown it is still the ultimate road-going Jaguar) - but there is also heavy influence from the XJ13 prototype, particularly at the rear of the car. For example :
http://www.google.co.uk/imgres?imgurl=http://image...
Gassing Station | General Gassing | Top of Page | What's New | My Stuff