Friday 15th October 2010
Pic Of The Week: Lotus Elan
We compare Lotus's brave new world with its illustrious past
---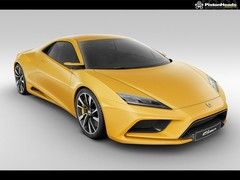 Click to preview
We probably should have brought you an example of Lotus's bold new future as POTW before now, being as it was unveiled a good couple of weeks ago.
But Hethel's unveiling of five new models was a bit too much for our delicate constitutions to take in and it's taken until now to digest all the info and pick the pic we want.
And here it is - the Lotus Elan. To be frank, we struggled to choose between the five new models (not least because they all look remarkably similar to one another), but in the end we plumped for the Elan for the rather girly reason that the yellow makes it a more striking wallpaper than the silver-grey of the other new Lotuses.
The big question is, how does the 444bhp, 194mph(!) new Elan measure up to Lotus's previous products of the same name? We hear the argument for it bettering the Front-wheel drive 1989 attempt, but is it going to be sweeter than the 1960s original? We seriously doubt that...
Normal (1280x1024)
WideScreen (1440x900)
SuperSize (2048x1536)

Gassing Station | General Gassing | Top of Page | What's New | My Stuff