Thursday 21st October 2010
Driven: SLS AMG In The UK
A Gullwing leaves its mark on the green, green grass of home
---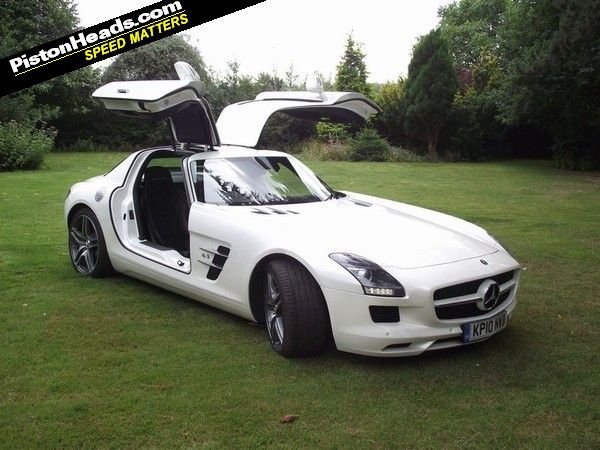 Part of the joy of motoring is there's always something new to learn, but when I borrowed M-B's SLS Gullwing the other weekend I didn't expect to discover how quickly a warm AMG V8 would scorch its perfect outline into the mother-in-law's lovingly-tended lawn.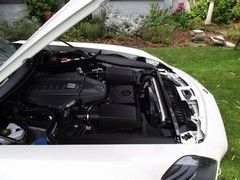 I'd parked it up on the hallowed sward - still ticking-hot from a quick blat around the local lanes - in order to explore the car's 'Transformer-esque' visual qualities. Significant charring ensued, and wrath was duly incurred. (Albeit at a lower than expected temperature, perhaps due to my esteemed German mother-in-law's understandable sense of national pride.)
Sadly I couldn't take a picture, as callous disregard for the dear lady's feelings may have caused a deeper rift in international relations, but the brown rectangle on the grass remains as a fine memento of a momentous car. In fact the scorched earth is interesting for two reasons. First, the engine is dry-sumped so sits very low in the chassis and close to the ground - the root of the problem, I feel. Second, was it not for the rear-mounted transaxle there'd have been a lot more hot metal up front and a commensurately bigger 'ground zero' effect. (Surely it can't be long before this line of forensic inquiry appears on CSI Miami..?)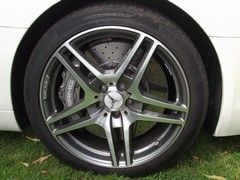 Having previously only experienced the SLS on the road in California and round the Laguna Seca circuit (did I say only..?), getting to grips with it here in the UK was something of a revelation. When I drove it in the US on the road, the car seemed a little on the 'cruisey' side - to the extent that without an illuminating and exhilarating track session I might even have described the SLS experience as a little underwhelming.
Laguna Seca put paid to that
.
After driving the car here in the UK, the very idea seems ludicrous. Perhaps it's a 'scale' thing, but the just SLS feels bigger, louder, more charismatic, and generally more brutishly magnificent on British roads. It's a lion of a car - a genuine top predator with the capacity to make the hairs on your neck stand up.
The engine plays the major part, of course. The 6208cc litre V8 having been fettled to a bellowing 563bhp at 6800rpm and 479lb ft at 4750rpm. It fires up with a threatening rumble, and delivers its explosive rush of power with a thunderous roar. It's pretty theatrical stuff, more big block Chevy dragster than European supersports car, and possibly in gloriously poor taste by M-B's usually conservative standards.
Then there's the firmly-sprung, but incredibly well-balanced chassis that - in spite of that enormously long bonnet, 500hp rear-drive configuration and old-school 'passive' coil springs and dampers - defies attempts to unsettle its poise. On a dual carriageway or open A-road, this car absolutely monsters its way around fast sweeping corners, demonstrating astonishing grip, stability and an absolute absence of body roll. Even the steering imparts a useful degree of feel, and seated so far back in the car the driver feels incredibly connected to the driven back axle. Throw in that thundering V8 soundtrack, and a bit of traffic to overtake, and it all becomes fantastically thrilling.
| | |
| --- | --- |
| | |
Stray off the beaten track a little though, and if you're not respectful of all that performance, 'thrilling' may occasionally tend towards 'sphincter-clenching'. The taut suspension (without any computers making 'active' adjustments) takes to our lumpy-bumpy British back roads with a little less aplomb than they master the smoother stuff, and a couple of times on local roads I found myself chickening-out at 'experimental speeds' as the short-travel shocks seemed to run-out of ideas and the SLS momentarily took on the demeanour of a rocket-propelled roller-skate. I recall the Ferrari 599 HGTE feeling less skittish over similarly challenging ground, but more heroic/qualified pilotes may have sneered at my relative cowardice and pressed on. Either way, the SLS remains fiendishly fast under all conditions and pushing it is big, big fun.
| | |
| --- | --- |
| | |
On a practical level the car is pretty liveable-with too, thanks to a decent boot. Cabin space is limited, although even at my height (6'4") it's not too confining in spite of the pronounced 'tumblehome' effect. This is partly because the optional carbon fibre backed sports seats liberate extra headroom as they adjust manually, but I found them uncomfortably hollow in the lumbar region. My trusty reindeer cushion sorted the problem, but didn't really look the part. If you're thinking of checking this option, I'd recommend giving the seats a good long test drive first.
| | |
| --- | --- |
| | |
But enough of the petty niggles, and let's cut to the chase. From this desk £157,000 sounds like money well spent for one of the most thrilling front-engined supersports cars the world has ever seen. It's a spectacular, theatrical and utterly engaging drive, and let's not forget that awesome profile which makes the SLS one of the most effective extensions to a chap's manhood on the road today. Which is, of course, priceless.
Gassing Station | General Gassing | Top of Page | What's New | My Stuff