Friday 19th November 2010
Pic Of The Week: Peking-Paris VW
Crossed-up cabrio action shot shows there's life in one old, er, Beetle...
---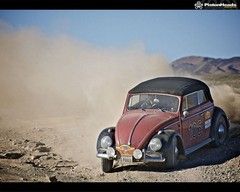 Click image to preview
First run in 1907, the first-ever trans-Continental motor-rally between Peking and Paris remains an epic challenge to this day. (Albeit there was a bit of a break between the first one and the second in 1997 when the event was reinstated.)
Still, it's been going strong ever since, and the 2010 challenge has just been completed by a mixed bunch of competitors that includes this 'crossed-up' cabriolet entered by Garrick L. Staples and Robert McClements who finished the event (11th overall, and 7th in class) in Paris earlier this week.
The picture was taken – not in Paris, obviously – by photographer Gerard Brown, and we're sharing it today because Garlick 'really, really likes it'. (We have to pander to him, otherwise he sulks.)
Normal (1280x1024)
WideScreen (1440x900)
SuperSize (2048x1536)
Gassing Station | General Gassing | Top of Page | What's New | My Stuff