Friday 17th December 2010
Pic Of The Week: Lamborghini Countach
Alps. Lamborghini. Brill. That is all
---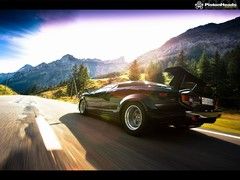 Click to preview
A Lamborghini and an empty stretch of Alpine road. This is surely enough to get any fan of driving, cars or - we suppose - the Alps all wobbly at the knees.
And so it is with pleaure (and wobbly knees) that we bring you today's POTW, an image that we hope should ease the prospect of another weekend spent wading through the slush as you attempt to find a scarf for Aunty Mildred.
The Countach might not be the most subtle of Lamborghinis - especially with the ludicrous aerodynamic addenda that sprouts from this late-model Countach Anniversary - but it is a pretty wonderful car. And a genuinely spectacular shot, we reckon.
You can find out more about this car (and Countachs in general) in this month's Classic & Sports Car (from whom we have purloined today's POTW). All we can say is forget 'wish you were here?' We wish we were there. Right now...
Normal (1280x1024)
WideScreen (1440x900)
SuperSize (2048x1536)
Gassing Station | General Gassing | Top of Page | What's New | My Stuff