Friday 7th January 2011
Pic Of The Week: TVR-tastic
We unearth a TVR treasure trove in a desk drawer
---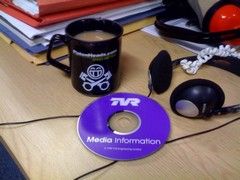 Not POTW...
We reckon we've discovered a bit of a gem for this week's POTW (we say, modestly).
A day or two ago RacingPete, during a rummage through his desk drawers (he calls it tidying up; we call it displacement activity) emerged from a particularly deep excavation brandishing an innocent-looking purple CD.
And the words on the purple background? TVR Media information, along with a copyright year - 1999. This, then, was a press pack from the halcyon days of 1990s TVR, with the promise of some juicy hi-res images within. Provided the rough life of a case-less CD living at the bottom of a desk drawer hadn't rendered it useless, of course.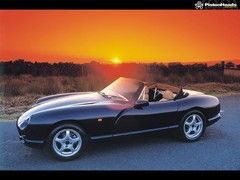 Click to preview
Sure enough, with a bit of careful cleaning the disc duly unloaded its jpeg cargo, and what we found has proven to be a bit of an Aladdin's cave for TVR fans, with Griffs, Chimaeras, Tuscans, and even some factory shots and Speed Twelve images thrown in for good measure.
We've chosen the Chimaera-at-sunset shot as our star pic, partly because it's the most atmospheric image, but mostly because Chim-owning Garlick has promised to make me tea all day if we use it...
Oh, and we've also popped a selection of the CD's other highlights for your perusal below, because we're nice like that.
Normal (1280x1024)
WideScreen (1440x900)
SuperSize (2048x1536)
---
Update: By popular demand, here's some hi-res attachments for the Speed 12 image...
Normal (1280x1024)
WideScreen (1440x900)
SuperSize (2048x1536)
Gassing Station | General Gassing | Top of Page | What's New | My Stuff