Friday 4th February 2011
Pic Of The Week: Audi R18
If the Dark Side of the force ran a race team it would use these...
---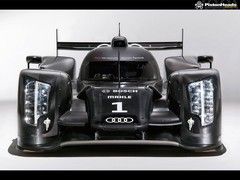 Click to preview
We generally do our best to respond to popular demand with POTW. So, after Tuesday's story about
the new Audi R18 Le Mans challenger's test at Sebring
precipitated a gaggle of calls for the car to be made the subject of pic of the week, that's just what we've done.
But instead of the rather unglamorous shots taken at Sebring (yes, the location is pretty exotic, but the photos don't really do it justice), we've gone for this stark but menacing studio shot, which should please the PH detail fiends no end.
The only thing we worry about is that it might seem a little scary when you're at your most delicate. So try not to spill your coffee over your keyboard when you turn your computer on first thing in the morning - which is exactly what happened to us...
It really is quite a menacing sight - you would certainly move out of the way pretty smartly if you were driving a GT2 Porsche and you saw this closing in on you down the Hunaudières straight...
Normal (1280x1024)
WideScreen (1440x900)
SuperSize (2048x1536)
Gassing Station | General Gassing | Top of Page | What's New | My Stuff