Friday 4th March 2011
Pic Of The Week: Aston Martin AMR-One
Aston, Gulf, Le Mans, beating the diesels. The dream starts here...
---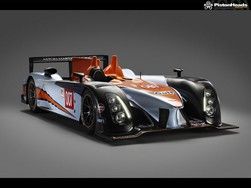 We're going to go out on a limb here, and suggest the new Aston Martin AMR-One at first glance isn't quite 'pretty'.
Focused, aggressive, purposeful, honed - edgy even. And with some terrific stand-out design details like those shark-infested side vents. But not pretty, like the V12 coupe the factory entered at Le Mans last year.
So let's hope this new image reflects the sense of unrelenting purpose needed to get Aston back to the front of the grid at Le Mans.
And keep looking at this picture, because the harder you look, the prettier the AMR-One gets. It's all in the details.
Normal (1280x1024)
WideScreen (1440x900)
SuperSize (2048x1536)
Gassing Station | General Gassing | Top of Page | What's New | My Stuff