Thursday 17th March 2011
Driven: Mercedes SLK
Can Merc's latest roadster add 'fun to drive' to its list of abilities?
---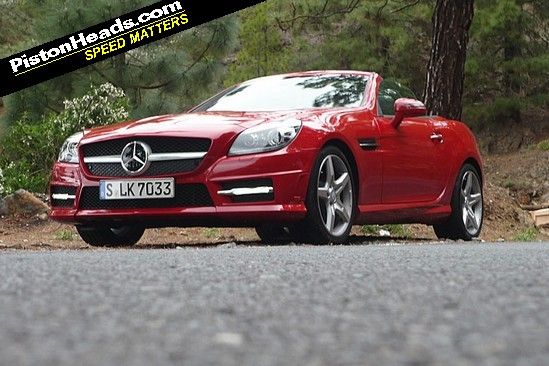 Faced with a challenging series of mountain switchbacks to negotiate, an SLK would not traditionally be your sporty roadster of choice. It is therefore perhaps a measure of just how confident Mercedes is in the dynamic ability of its new car that it has chosen Tenerife, whose wiggly mountain passes must easily match anything the Alps has to offer in terms of corners per kilometre, to launch the third generation of its two-seat roadster.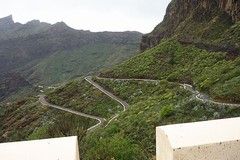 The little Merc proves up to the challenge, too, tackling long series of hairpin bends with little complaint and quite a lot of enthusiasm, whatever engine, gearbox or chassis combination you choose. Okay, it's still no Boxster, but the SLK is now more than capable of putting a smile on your face over a twisty road.
That doesn't mean that Mercedes has forgotten the SLK's traditional MO of course. 'Refined sportiness' are the key words for this car, says Mercedes, so the SLK remains self-consciously softened-off at the edges to keep the boulevardiers and trundlers that make up its core audience happy.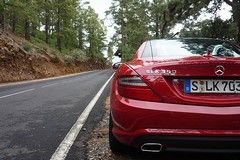 The trick folding hardtop roof remains, too, with steel or glass panoramic option. It offers a new trick, though with the optional 'Magic Sky Control'. This might sound like some fiendish alien weaponry from Blake's 7, but it's actually a switch that activates an electric current in the roof panel, allowing you to vary the transparency of the glass roof, blocking up to 80 per cent of light through it in its dark setting.
Other new bells and whistles include Attention Assist and a new pedestrian-friendly 'active' bonnet as standard and, on four-cylinder models, a synthetic audio enhancement for the engine, which gives a more pronounced induction note. This last is generated mechanically rather than electronically (as is the case in the PH fleet Seat Leon Cupra R).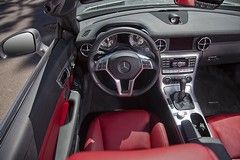 Visually the new SLK is both similar to, and a great departure from, its predecessor. The long bonnet, short rump roadster proportions remain, and the roof and windscreen are more or less identical to those on the outgoing model, bar a few subtle changes. But the general details are more confident, more masculine, even if the front has lost the oddly phallic SLR-esque nose.
It's a deliberate move away from a slightly effete look, says Mercedes designer Michael Plessing. "We wanted to attract more male customers" he says, "so we held customer clinics with that in mind and this is the design that came out best. We just hope that it won't put off our female customers".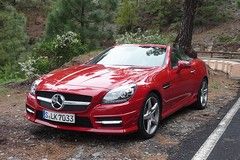 He also feels the new car is much more in keeping with the Mercedes design language: "The old car, it wasn't really a classic Mercedes - to be honest I don't think it will age that well."
But if the exterior design is evolutionary, the interior is dramatically different - and quite possibly one of the finest cabins Mercedes has yet come up with. The overall effect, with bold horizontal surfaces and striking circular vents, is reminiscent of the SLS AMG, although somehow more approachable, less intimidating. It also seems darn well screwed together (although for the 44 grand it'll cost you to get into a top-spec SLK 350 you'd rather hope it would be).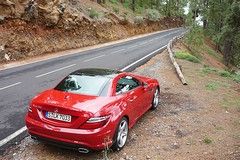 Engine options for now include a 1.8-litre 181bhp for the SLK 200, a 201bhp version of the same engine for the SLK 250, and a 3.5-litre V6 with a not insignificant 302bhp for the SLK 350. Eventually there will be a diesel option, (a first for an SLK) as well as a twin-turbo V8 AMG version, but for now the petrol V6 sits at the top of the SLK tree and, this being PistonHeads, that's the one we pick for our test drive.
Which brings us back to that twisty Tenerifan road. The 302bhp V6 is enough to propel the 1540kg roadster to 62mph in 5.6secs, and does so in such a linear, progressive manner that you either have to make concerted efforts to drive like a hooligan or find a wet road to make the ESP intervene in any meaningful way as you accelerate out of the corners.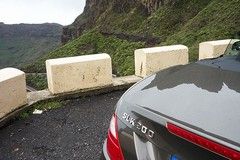 It is fortunate that the brakes are good, too, because the new V6 emits such a sonorous, cultured growl in the upper echelons of the rev range that you will want to keep your foot pinned for as long possible. The all-new direct-injection V6 (thus far only seen on the S- class and CLS) is also stunningly frugal, with Mercedes claiming a blinding 39.8mpg on the combined cycle.
It's not all good news, mind. The seven-speed 7G-Tronic Plus gearbox isn't always keen to provide you with a gearchange precisely when you want it in manual mode, while accelerating hard out of the slowest, tightest corners will have you either in an over-frenetic first or a laboured second. Having said that, for the way this car will be driven most of the time (ie not at nine-tenths on a mountain road), the gearbox is ideal; smooth responsive and refined.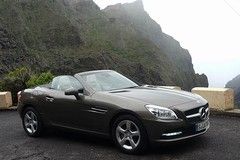 Also not so brilliant is the hydraulic power steering which, although reasonably accurate, is a mite too light and leaves you with little idea of what's happening beneath you or the sorts of loads you're putting on the front tyres through the corners.
Curiously enough, this was not the case in the four-cylinder SLK 200 we also tried, its smaller tyres and lighter engine providing it with a more communicative helm. The 200 was actually a game old thing; despite it's power deficit, smaller tyres and no sports suspension as featured on the SLK 350 AMG Sport we drove it kept up with the faster cars of some fellow journos with reasonable ease - although the knobbly, ponderous six-speed manual 'box wasn't its strongest suit.
The SLK has now matured into more than just a cruiser with a roof - it can now do the twisty road thing with some conviction, too. We await the arrival of the AMG version with great anticipation...
| | | |
| --- | --- | --- |
| Number of cylinders/arrangement |   | 6/V, 4 valves per cylinder |
| Displacement | cc | 3498 |
| Bore x stroke | mm | 92.9 x 86.0 |
| Rated output | kW/hp | 225/306 at 6500 rpm |
| Rated torque | Nm | 370 at 3500 rpm |
| Compression ratio |   | 12.0:1 |
| Mixture formation |   | Direct petrol injection  |
Transmission
 
Seven-speed automatic transmission
 
Ratios

Final drive

1st gear

2nd gear

3rd gear

4th gear

5th gear

6th gear

7th gear

Reverse

3.07

4.38

2.86

1.92

1.37

1.00

0.82

0.73

3.41

 
Front axle
Multi-link independent suspension, anti-dive, coil springs, gas-pressure shock absorbers, stabiliser
Rear axle
Multi-link independent suspension, anti-squat and
anti-lift, coil springs, gas-pressure shock absorbers, stabiliser
Braking system
Disc brakes all round, internally ventilated at the front and solid at the rear, electric parking brake at the rear, ABS, Brake Assist, ESP®
Steering
Hydraulic rack-and-pinion power steering
Wheels

front 7.5 J x 17

rear 8.5 J x 17

Tyres

front 225/45 R 17

rear 245/40 R 17
| | | |
| --- | --- | --- |
| Wheelbase | mm | 2430 |
| Track, front/rear | mm | 1551/1568 |
| Overall length | mm | 4134 |
| Overall width | mm | 1817 |
| Overall height | mm | 1303 |
| Turning circle | m | 10.52 |
| Boot capacity * | l | 225-335 |
| Kerb weight acc. to EC | kg | 1540 |
| Payload | kg | 315 |
| Perm. GVW | kg | 1855 |
| Tank capacity/incl. reserve | l | 60/8 |
Performance and fuel consumption
| | | |
| --- | --- | --- |
| Acceleration 0 - 100 km/h | s | 5.6 |
| Top speed | km/h | 250 |
| Fuel consumption comb. | l/100 km | 7.1 |
| CO2 emissions | g/km | 167 |
|   |   |   |
*acc. to VDA measuring method
Gassing Station | General Gassing | Top of Page | What's New | My Stuff