RE: Jag XF Gets Facelift (And Four-Cylinder Diesel)
Thursday 31st March 2011
Jag XF Gets Facelift (And Four-Cylinder Diesel)
XF goes all 'age of austerity' on us with new super-economical diesel
---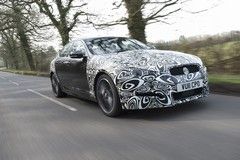 Jaguar is to introduce a four-pot diesel to its XF range. The engine, familiar to many a Ford/Peugeot/Citroen/Land Rover driver, is the Ford-PSA developed 2.2 litre common rail turbodiesel, albeit fairly extensively modified.
It is installed longitudinally for the first time, gets a water-cooled turbocharger with low-friction pistons, new injectors and a new crankshaft. That north-south layout also allows a new oil pan and new electronic systems affecting the crankshaft, making the stop-start system more effective. It produces 188bhp, puts out 332lb ft of shove at 2000rpm and is likely to make its debut at this year's New York motor show.
The new diesel will be part of a facelifted XF which, as you may be able to tell from these mule pictures, will be taking on a little more of the XJ's on the nose and tail.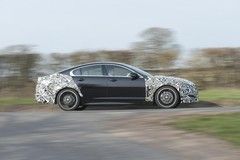 The 52.3mpg 2.2 will be the first XF to emerge from Coventry priced at under £30,000 and emitting less than 149g/km of C02, both factors being massively important to the company car buyers (and will no doubt help reduce Jaguar's overall CO2 average nicely).
The other major debut for the XF facelift will be the ZF 8-speed automatic gearbox. Considering the wonders Jaguar's engineers have managed with the 6-speed ZF unit, that should make for progress smoother than a Barry White CD covered in double cream.
What worries us here at PH HQ is whether or not this engine will be able to shift the big Jag (all 1600kg of it) at a rate suitable for a car wearing a leaping cat. Although the 2.2 XF's 0-62mph time of 8.5secs and 140mph top speed do at least seem respectable...

Gassing Station | General Gassing | Top of Page | What's New | My Stuff