Thursday 7th April 2011
Junior Jaguar And XF 'RS' Projects Confirmed
New Jaguar product offensive supports extended global ambitions
---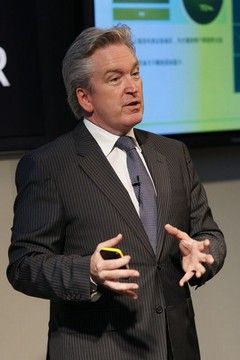 Hallmark: 'We want to be yay big'...
Jaguar has confirmed it will build a BMW 3 series rivalling 'junior executive' model as part of its ambitious plans to turn the company into a true global player.
In spite of its major success stories with the new XJ and XF, the firm's global brand director Adrian Hallmark reckons a lack of breadth in the current product range makes Jaguar a British outfit 'participating successfully in certain global markets', rather than the truly global company it could (and should) be.
A major development offensive is therefore underway for the current line up, aimed at targeting obvious holes in the brand's global coverage, and which includes the imminent arrival of a four-cylinder diesel option for XF in Europe. The diesel will open up a vast new market sector for that car (one where BMW makes 60% of its 5 series sales) - and the programme also includes the development of a 4x4 drivetrain targeting North America, plus a crucial petrol V6 option for the XJ in China.
In the North American snow belt, 70% of premium imports are sold with 4x4 reckons Hallmark, so the addition of a 4x4 system will be key to the marque's expansion plans there. In China, import taxes mean a V6 powered XJ will cost half what a V8 costs (although it's still pricey at the equivalent of £100k!), so that too seems an obvious move.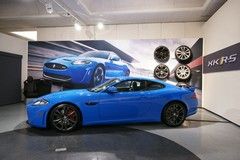 XF is getting the 'RS' treatment - official!
Sadly no details have been made available about the car that will effectively be an X-type replacement though, or about the nature of the 4x4 system under development. Perhaps some well-informed PHers might be kind enough to enlighten us via news@pistonheads.com?
No names, no pack drill, etc... (Cough!)
Among the many snippets of heartening product news was confirmation that there's an 'RS' version of the XF in the works. Or to paraphrase the man himself 'I can confirm there is a project to transfer the upgrades from the XKR-S to the XFR, but we haven't confirmed it for production yet. But it would be great to see the XF with 550hp!'
Adrian was speaking at the start of a major JLR 'media offensive' to which PH was invited at the start of this week. It was aimed at filling our heads with positive thoughts about the technical prowess of a company that's working flat out on all fronts towards being the best in every area in which it competes.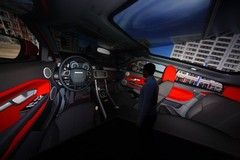 A rare peak inside JLR's 'virtual' world
A noble aspiration, we felt, and having sat through two days of fascinating seminars from engineers working on everything from the Evoque's ground-breaking (sic?) Magneride suspension to JLR's amazing 'Virtual Reality Cave' (more on that later) we would have understood if even the visiting Chinese press pack left feeling, like us, distinctly proud of a British success story.
Gassing Station | General Gassing | Top of Page | What's New | My Stuff