Friday 6th May 2011
Pic Of The Week: Low Drag Jaguar E-type
Stunning restoration unveiled (plus bonus POTW for McLaren fans)
---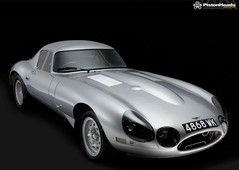 Click to preview
With Jaguar's future firmly in the news today, it doesn't mean we want to overlook the past - especially when a picture like this arrives in our email inbox.
It comes with a press release detailing how "one of the most important Jaguar cars ever built has been unveiled in Bridgnorth, Shropshire, after 7,000 hours of restoration," and it's courtesy of the Classic Motor Cars workshop of said town.
The car is the only factory Low Drag lightweight E-type, and it's been put back together in what CMC says is one of the most complex restorations ever to have taken place anywhere in the world.
When it crashed at the Montlhery circuit in 1964 (an accident that cost driver Peter Lindner his life) the E-type was so badly damaged that a complete restoration was thought to be impossible. Now, some 47 years later, the car has been put back to its former glory using more than 90% of the original parts - including alloy body panels painstakingly hand-beaten back into shape from the mangled wreckage.
Over five thousand hours went into restoring the body alone, says CMC. The original crashed monocoque which had been deemed too difficult to restore in the 1970's was disseminated into individual panels. Each panel was then flattened, repaired, reformed into the original shape and then the structure was riveted and spot welded together as per the original construction method. Amazing stuff.
PS. We've just been tipped off that the Low Drag Jag's first proper public outing - in motion at least - is likely to be the Cholmondeley Pageant of Power on 15th/17th July. That's following a scheduled 'static appearance' at the Ville D'este Concorso D'Eleganza later this month.
Normal (1280x1024)
WideScreen (1440x900)
SuperSize (2048x1536)
*****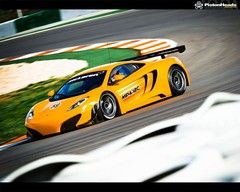 Click to preview
Meanwhile for all you McLaren 12C GT3 fans, here's a special bonus POTW
from our gallery yesterday
. Roll on Le Mans 2012..?
Normal (1280x1024)
WideScreen (1440x900)
SuperSize (2048x1536)
Gassing Station | General Gassing | Top of Page | What's New | My Stuff