PHEA Meet: LowiePete's Detailing Day - Saturday 27th April
Hello everyone,
With the 2019 Calendar release due soon, I would like to tell you about our annual
LowiePete's Spring Detailing Day
happening on
Saturday 27th April
.
It's proved a great day to learn car cleaning techniques in the company of fellow local car folk, all put together by PHer LowiePete, our friendly at-home detailing enthusiast

I shall now hand over to the man himself for the
Full Details
.

LowiePete said:
Hello Folks,
Date
The 1st of the 2019 Lowiepete Detailing Days is planned for Saturday 27th April.
The meeting assembly point is:
The Fighting Cocks PH in Lowestoft, NR33 0NA
Time
The meeting time will be 09:00 for prompt before 09:30hrs departures to a local
industrial unit. Don't be late and miss us, the pub is only the assembly place!
Numbers
Now that we are no longer weather dependent, the limit of attendees is increased
to 15. If there are enough experienced detailers to support it, that limit could
be extended to 20. Please indicate this with (XP) as you register.
Refreshments
We'll be providing hot drinks, but you will need to bring your own packed lunch.
We'll not be retiring to a local pub as hitherto. There is an option of a lunch
delivery service but this will need a minimum of 5 purchasers. If this interests
you, please place (F) behind your name.
Who Is Invited?
Along with visitors here, the invitation to this meet is also open to members of
other Forums, so preference will be given to those who register first, should the
limits be reached. Attending a previous meet doesn't exclude you from coming again.
The day is very much hands-on. There'll be a safety notice issued ahead of the day.
Goodies
As ever I will be attempting to ensure that no-one goes away empty-handed, so I'm
hoping to assemble a decent goodie-bag for everyone to take home. There's already
a bottle of ONR each and there's a couple of prizes in the free draw too.
An Approach to Summer Prep
This meet will be a little different to previous ones, with a much smaller Q car
to work on. However, we will need several attendees to do a bit of preparation a
week or two _before_ the meet. We're going to hold a Quick Detailer Shoot-Out,
testing their ease of use and other qualities or draw-backs. Now, we could do this
on cars belonging to the hosts, so to avoid that we'll need just the bonnets and
maybe the front wings of several other cars to be cleaned and prepared as if they're
being taken to a car show. This means doing it "your" way as you would normally
then bringing us unwashed paint that has no more than 4 weeks of protection on it.
At the meet, we'll give each bonnet an ONR wash (explained and practiced on the day)
then apply a different QD, with at least two people doing the application as one
of the comparisons. We'll need several participants so, if you're up for getting
involved place a (T) behind your name in the list below. We'll assign on a FCFS
basis.
Register Your Interest
Please register by adding your name below.
Please show your First Name, then Forum Name, then suffix as below...
Show (FB)(PH)(RT)(TR) for Forum source.
Show (XP) for experienced and willing to help us host.
Show (F) if you'd like a delivered lunch.
Show (T) if you'd like to take part in the shoot-out.
Host: Steve - Lowiepete, Co-Hosts - Jordan - kartman & Darren - chapman88
1:
2:
3:
4:
5:
6:
7:
8:
9:
10:
Here's looking forward to another successful day.
Regards,
Steve
So there you have it!
All you need to do is reply to this Thread or PM me to let us know you'd like to come. Should you wish, you can Post to the Event on our
Facebook Page HERE
.
Please join us for another super day which promises to be one of fun, learning great techniques for keeping our pride and joys clean and shiny

Darren
Edited by iluvmercs on Monday 18th March 13:29
Register Your Interest
Please register by adding your name below.
Please show your First Name, then Forum Name, then suffix as below...

Show (FB)(PH)(RT)(TR) for Forum source.
Show (XP) for experienced and willing to help us host.
Show (F) if you'd like a delivered lunch.
Show (T) if you'd like to take part in the shoot-out.

Host: Steve - Lowiepete, Co-Hosts - Jordan - kartman & Darren - chapman88
1: Darren - iluvmercs - (PH)
2: Mark - mawallace - (PH)
3:
4:
5:
6:
7:
8:
9:
10:

Here's looking forward to another successful day.



Hello Folks,
The haul of freebies and prizes for the free draw on my Detailing Day (27th April)
is growing slowly. With buffing cloths, a clay cloth, and several tried and tested
potions to use, no-one will be going home empty-handed. My thanks to Edwin
from Optimum and Alex from Serious Performance for their generous donations.
There are more supplies already promised and if anyone would like to add to the
haul, do please get in touch.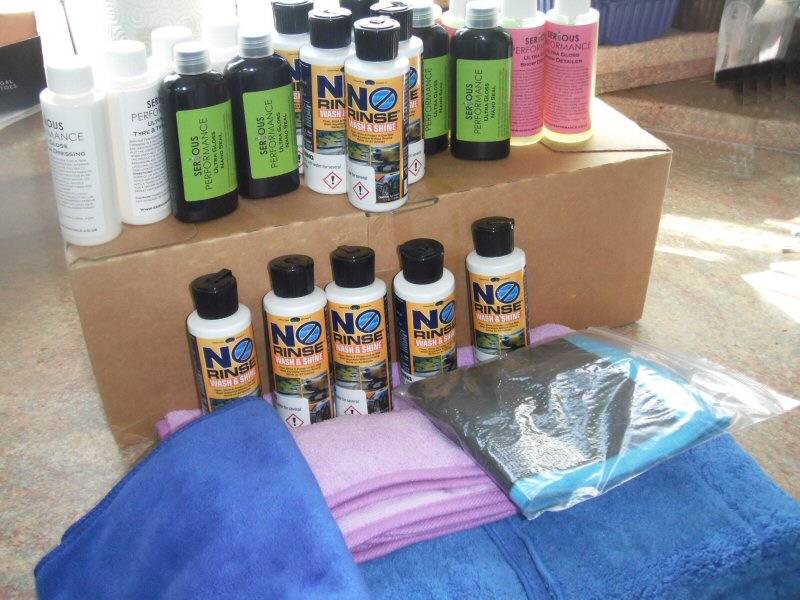 Regards,
Steve
Safety Notice - PPE RequirementsLowiepete's Detailing Day 27 April 2019
While the majority of this meet will be around benign potions and methods,
if we are to do more than just talk about what are essentially "professional"
practices, then we do need everyone to stay safe. By attending this event it
is incumbent upon you to not put yourself or anyone else at risk. You _will_
need to bring the following items with you, and you'll be required to wear
them when instructed, else stay well clear of that work area until that demo
is concluded.
Please bring...
protective eyewear
nitrile gloves (more than one pair)
a face mask to FFP3 standards (disposable is fine)
Also, please be aware that some cleaning potions would not qualify as your
favourite after-shave, so old clothing or even an apron to put over your knees
while we're cleaning wheels might be a good plan.
I do want everyone to enjoy their day. We're there to share experiences with
each other, not to test ambulance response times. Your collaboration is much
appreciated. Thanks.
Regards,
Steve
P.S. In addition to Darren's post above, even though the day is free to attend,
you will need your register interest either directly with him, me or on this thread
before 7pm on Friday 26th April. You should not just turn up on the day because
our maximum number of attendees will be 15. There are apparently 25 people
on Facebook who have indicated an interest. Even though the weather forecast
isn't clever, we can easily work indoors. The pub is only the gathering place.
Edited by LowiePete on Thursday 25th April 16:46
Thank you to those who made it along today to another enjoyable Detailing Day.
A intimate gathering this time round meant plenty of time to discuss, and demonstrate in depth, various detailing techniques on our quirky Piaggio scooter pickup donor car.
A great day out. Thank you to LowiePete for putting it all together

Once uploaded, I'll post a link to my photos.
See you all for the next one!
Darren
Well, no-one can accuse me of not trying to make these days out a
little challenging, especially as we have a growing core of regular
attendees. This time the vehicle was small, but it did have some
quite big challenges, including literally no paint to work with as far
as any abrasive polishing was concerned. Finding remedies for that
scenario can be very limited!
My thanks to everyone who came, and for all the enthusiasm that
you applied in solving the tasks you were presented with. For the
Autumn Detailing Day I'm hoping that we'll step it up a notch with
a pretty special car to prepare for a pretty special outing. Are you
up for it?
My photos of the day that Bryan, the owner,
collected his van are here
...
Darren,

With the next detailing day not far away, can we have your before & during pics please.
I'm hoping to bring some product sponsors on board for the next meet, so they're
pretty important. I'd also hope to remember the processes so they can be annotated.

LowiePete's Autumn Detailing Day - Saturday 21st September folks...

Regards,
Steve

My photos are now up, so please take a
gander at them HERE

Darren
Gassing Station | East Anglia | Top of Page | What's New | My Stuff