Wednesday 25th July 2012
New PH Ts launched today
The sun is shining (soon) so what better time to launch a new range of Ts?
---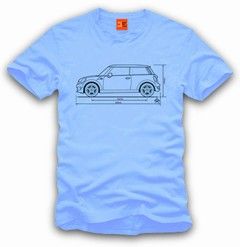 Rumour has it, if Michael Fish is to be believed, the British summer is soon to arrive and in no time at all we'll all be complaining about the heat rather than moaning about the rain. Once the floods have subsided you'll need some new Ts instead of that wetsuit you've been wearing to the office for the past few weeks, and that's where we come in.
This afternoon we are pleased to premiere a new range of 'tech' shirts featuring cars old and new, but all are so simple they need no slogans or captions. Just a small PH smiley adorns these designs to show your standing as a true PHer.
Designs range from the Alfasud to the Renault 4, from Sierra Cosworth to the Honda NSX. There is something for everyone and new models will be added to the range regularly too, so if the car you want isn't shown it may well be added soon.
All designs are available in a range of styles and colours with base T-shirts suitable for men and ladies, all priced at £17.99 with free delivery on UK orders.
To see the full range of shirts click this link.   
Orders will be despatched as quickly as possible to help you make the most of this burst of sunshine. Thanks Mr Fish, you're the best.
Competition: If you buy a shirt that has your car on it, post up a picture on the shop forum of you in the shirt alongside the car. We'll award a year's supply of Ts (12 shirts) to the best pics submitted.
Gassing Station | PH Shop | Top of Page | What's New | My Stuff