Thursday 13th September 2012
Chris Harris video: Panamera Diesel
Is the Panamera Diesel fast enough you asked. Chris Harris finds out once and for all...
---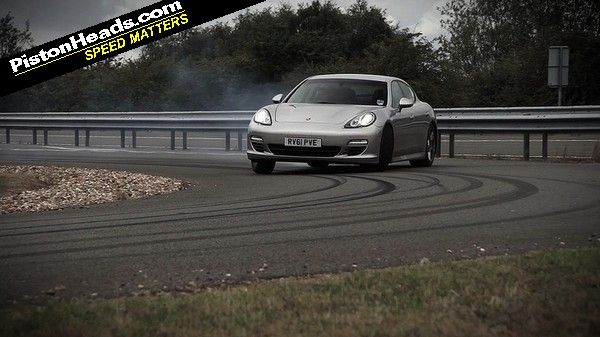 There were many interesting topics of discussion generated by the first report on the Panamera Diesel I'm running at the moment. And some tedious ones.
To support my statement that the Panamera Diesel was fast enough for my everyday needs, I had no evidence, and people didn't seem inclined to believe me. I had no intention of ever taking a diesel Porsche to Milbrook to see how fast it is, but this seemed like the only way to glean that information.
For me, the results were pretty surprising. You'll have to watch the video to find out what they are.
By coincidence, the very same day that I attempt to justify my support for this V6, 250hp diesel, Porsche has announced a 4.2 litre V8 oil-burner for the Cayenne: it boasts static numbers most people would want and expect from a Porsche: 382hp and a crazy 627lb ft, but sadly it won't fit under the Panamera's low bonnet-line.
It'll be a stonking package, but the claimed 34mpg on the combined cycle does seem to support the notion that, using diesel, there is a dramatic drop-off in fuel economy once you reach a certain performance point. My family ran a 535d for four years, it was a very good car, but driven hard, as it tended to be, it would average mid-20s. At which point you might as well have an M5, no?  Driven the same way, the Panamera Diesel is knocking on the door of 40mpg. Last week I had 45.6 mpg on a quick cruise back from London.
So the question is: would you sacrifice a quarter of the economy for a load of extra grunt? Right now, I wouldn't because for my everyday driving, I just wouldn't see much reward for the extra performance, and getting 650 miles from an 80 litre tank, and still being able to travel very quickly is a pretty compelling set of attributes.
Enjoy the vid.
---
Gassing Station | General Gassing | Top of Page | What's New | My Stuff