I love these but couldn't afford one a few years ago when making a used car choice. The A7, Cls and 640d that were kinda similar have come down in price massively but a clean 2012 3.0d is still 20k. 20k last year and 20k the year before.
I think the look great and the interiors are lovely, what nicer than the 640d I got. Then again they can now be had for £10k from £15k last year and the Pan is holding its value
GordonGekko said:
We have used a 2012 Panamera diesel as an every day car for the last 3 years.
It has been such a good all round performer doing everything 8/10 - comfort, performance, style, practicality, running costs.

It's nice to drive slowly around town, good on country roads, amazing on GT blasts.

Fuel consumption is amazingly good for a larger car. Worst has been 38mpg; best 60mpg.

On a recent varied road type high speed journey with several 120-150+mph stretches, it still averaged over 40mpg.

There is a lot of plastic buttons/switches but generally they are acceptable.
The chrome trim embellishers on the window switches break off easily, but not a big issue.
Steel coil springs and cast iron brakes make the ride occasionally harsh, so air suspension may give a better ride quality.

A local independent Porsche specialist does the annual maintenance and repairs for a good price.

Overall it's a very good car which for my family has no obvious better prospect available.

At a current market value £20-22k they seem bargain of the classifieds.
We bought it for £27k 3 years ago financing it using 10% deposit, as larger balloon as possible, and a 4 year period. Costs £308/month - cheaper than walking!

If anybody is considering one, the diesel is highly recommended.
Panamera GTS Sport Turismo, 2019:
In my eye the best proposition Porsche had to offer in 2019.
Wonderful power: 4 litre biturbo 485 hp / 620 Nm plant.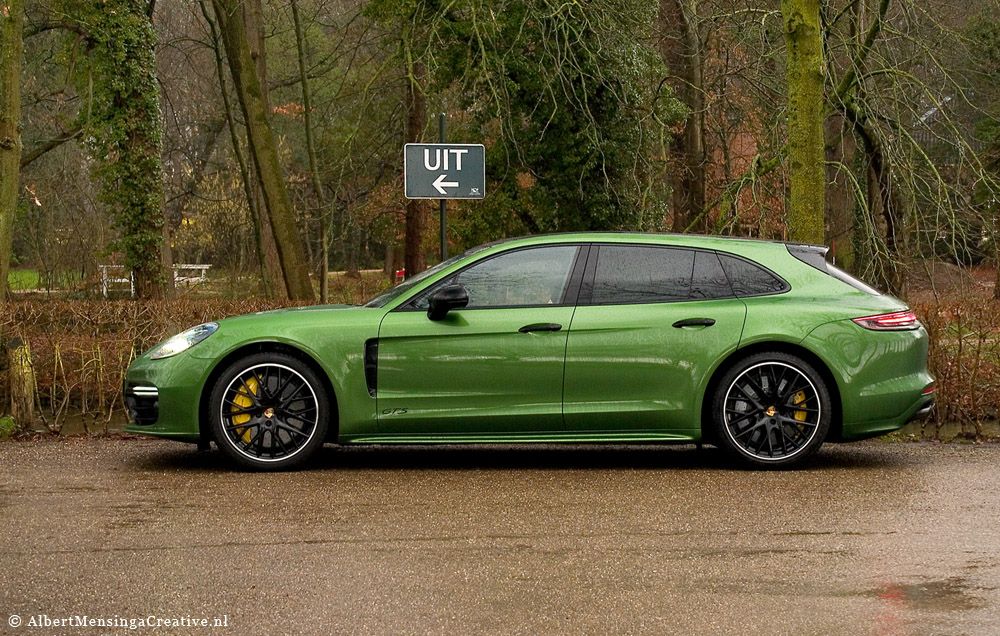 Fantastic color, spacious, practical and quick. This one does not feel too big.
Every new car dives down to 50k within the first few years. Better appreciate it for what it is.
Gassing Station | Front Engined Porsches | Top of Page | What's New | My Stuff