Anyone done the same/similar?

My current MacanS (petrol) was my first and long awaited foray into Porsche ownership. I've loved every second of it but I'm considering a change.

I've had the car 2.5yrs now which is a long time for me and add to that I've just had a new baby to join the 7yr old, the Macan is feeling a bit tight on space.

Given the PCM was updated from >2016 I'm keen on gaining Apple CarPlay plus things like LED PDLS+ which I think would improve the ownership experience.

So I've narrowed down a few cars. Initially looking at V8 diesels but the more I drive my Macan, I'm not sure I can live without the petrol in my life.

I've finally landed on a well loaded 2017 GTS and the numbers are looking like stacking up. And although I don't need a new car, I can justify it and want to stay with Porsche rather than Disco5, Q7, X5 alternatives.

Main questions are:

- anyone have any experience of living with the GTS (the later 3.6 V6)?
- I get between 20-22mpg in the Macan. What could I expect in the Cayenne GTS?
- anyone any experience of the standard GTS seats? I've heard some reviews which suggest they're too narrow, others that they're the comfiest seats around. I have adaptives at the moment and scared of losing them.

Basically I love the car I've found but need to convince myself to drive it. I'm pretty convinced I'll fall in love but want to go in with my eyes open and almost not drive it if any of the above points could be issues.

TIA

Can't really help on a lot of those questions as never driven a Cayenne GTS....nearly bought one when we got our S Diesel back in 2017. I seem to remember this video was a good review of the GTS.
https://www.youtube.com/watch?v=dH5MvIhPIs8
We've actually got a Macan and a Cayenne....sound ridiculous but we do 30k miles a year as a family so they get used. Macan is a Turbo PP and Cayenne is an S Diesel. I wouldn't discount S Diesel it's a superb engine...it'll get you mod 30's mg on a run. Personally.I think monster Torque in a car like the Cayenne really suits it.
Re seats the 18 ways in the Macan are good but the 18 ways in the Cayenne are another level and I think the best cars seats I have ever used. The equivalent seats in the new Cayenne and Taycan aren't in the same class. I remember trying the 14 ways when we ordered our Cayenne...they were okay but nothing special.
Not had the Macan but came from an Audi S8 to a Cayenne GTS nearly two years ago. Needed something to carry the dogs in and didn't like much of the competition on offer having tried most of them.
Have found the GTS to be a superb compromise between space and decent performance/handling.
Mines up to 34K now and due it's second service which isn't cheap at £1025 but overall it has been a joy to live with.
I return around 23/ 24MPG average with my commute and occasional long distance trips (when we could)

near 30 on a run is possibly unless your gunning it then she gets thirsty.
Mine has a good spec sheet but retains the standard seats which I have to admit I was concerned about coming from the S8 with superb seats. I can honestly say they haven't given me any trouble, are extremely comfortable and I am 6' 3" and solidly built. I do not find them narrow in the slightest, and have no complaints from passengers either.
Air suspension is superb and it has a good low stance and gets lots of positive comments about the way it looks goes and sounds.

BOSE is superb in it too with the huge sub below the boot floor, much better than the BOSE in the Audi.
I have the later model with the updated ICE with Porsche Connect plus and that works well too although I have turned off the Vodafone system now as it's far too expensive for what it does. I have my own data sim card in and use the google mapping etc. and Carplay .
Would I have another one? yes but I will wait for the second hand values to come down so I can get my hands on the new V8 next. No D's for me now

Hope this helps
Porsches are wonderful cars! I have had many over the years; the last of which was a new 997 first generation. For various reasons during lockdown I embarked on the search for a Cayenne 3.2 v6. I researched extensively on first generation Cayennes be they Turbos, V8s or V6s. That research led me on to also reading about the later Cayenne models. Clearly they are all tremendous cars, but I came to two conclusions should I look for a later model. Firstly, it would have to be low mileage with a full history. Secondly, any such purchase would have to be accompanied with a lengthy bullet proof Porsche warranty. The purchase itself being made at a Porsche dealership. I have no idea re the particulars of the model you are considering, but if it was me I would be guided by those two critical criteria!

Thanks all for the replies.
Particularly good to hear first hand experience of the GTS and great to hear the seats are great for normal mortals rather than just size zero ladies which is what some journalists have indicated. I was particularly disturbed by the comments in the video Chieb. I really need to get out and test it.
So the situation I'm now in is that I'm 90% there. I've got a good deal negotiated from the OPC I'd be buying it from. And the more I think about the additional practicality, extra toys, new-ness (4yrs newer than my Macan), it ticks all the boxes.
I suppose I have two problems:
- there's nothing intrinsically wrong with the Macan. I love it, it's serviced for the next two years, has the warranty extension so is just there for the driving;
- trying to squeeze travel to the dealership and Testdriving with a newborn in tow is difficult.
So whilst I'd normally at this point be racing off to the dealer to complete the deal, it all just seems like too much effort right now. Which is a shame given it's a corker of a car (Burmester, PDLS+, Adaptive Cruise, heated steering etc).
What to do. Part of me thinks just pay the deposit, testdrive and collect at my leisure. And the other part says just to let the dust settle. renew the search in the New Year when I have more time but risk losing out on a very well specced car.
Edited by Spuffington on Saturday 5th December 14:05
Wait until the New Year. I'm fairly convinced that prices will tumble:- and indeed that is precisely what I have read in relation to various high end brands. It's a sad fact that the vast majority of vehicles are on finance, and finance relies on employment. Perhaps I'm sounding pessimistic but that is my advice.

Thanks for the input guys.

I ended up deciding to stick with the Macan for the moment. What with Brexit, the implications thereof and potential slowdown in the economy due to C19, I decided to keep my powder dry until April then take another look then.

Was a difficult decision since I tend to move quickly on cars but I don't see stock getting easier to shift in the next 12months. Much better to be stuck with a depreciating asset from £30k (my Macan) than a £50+k vehicle. We'll see.

Well, famous last words from me back in December. I've just gone and put a deposit on a super Cayenne GTS which came up on OPC Swindon's website on Saturday.
Each Cayenne I've looked at over the last 6-9months has been "almost there" but not quite hit the spot - whether that be age, colour or spec. And I am so fond of my MacanS that I had no imperative to jump ship just because.
Anyway - an absolute beauty of a 2017 Meteor Grey on black GTS came up for sale and I had to jump on it. 37k on the clock and two previous owners; both known to OPC Swindon. The spec speaks for itself:
Auto Dimming Ext. Mirrors (w/memory package)
LED headlights PDLS+
Air suspension w/PASM
Porsche Dynamic Chassis Control (PDCC)
Power Steering Plus
Panoramic Roof
Sports Chrono
Park Assist w/Surround View
21" Cayenne SportEdition wheels (high gloss black)
Heated Windscreen
Privacy Glass
Roof rails in high gloss black alu
Comfort Lighting
14-way Comfort Seats
Seat Heating Front
Seat Ventilation Front
Steering Wheel Heating
Electric sunscreen for rear side windows
Speed Limit Indicator
Fire Extinguisher
Garnet Red dials
Garnet Red Sports Chrono dial
Garnet Red seat belts
Porsche Crest embossed headrests (front & rear)
Voice Control
BOSE
PVTS Plus
TV Tuner
Connect Plus
100l fuel tank
Not driven one yet, but comfortable enough from having driven pretty much everything else in the range that it'll share the usual Porsche DNA and with the air suspension and PDCC, it'll do a fab job at being comfortable for the family whilst being a hoot to drive, even if just slightly short of the Macan in terms of fun factor.
Car is currently being prepped, including major service w/plugs & brake fluid, so together with the 2yr OPC warranty, should be fairly minimal running costs (aside from a set of winter wheels & tyres) for the next couple of years.
Should be collecting it on Saturday. Very excited indeed!

Edited by Spuffington on Tuesday 23 February 14:54
Just to provide an update to the thread - I picked up this beauty just over a month ago now. According to Porsche Connect, I've spent just over 28hrs behind the wheel and a tad over 1k miles under the wheels in that time. It's fair to say, I'm very much in love with it.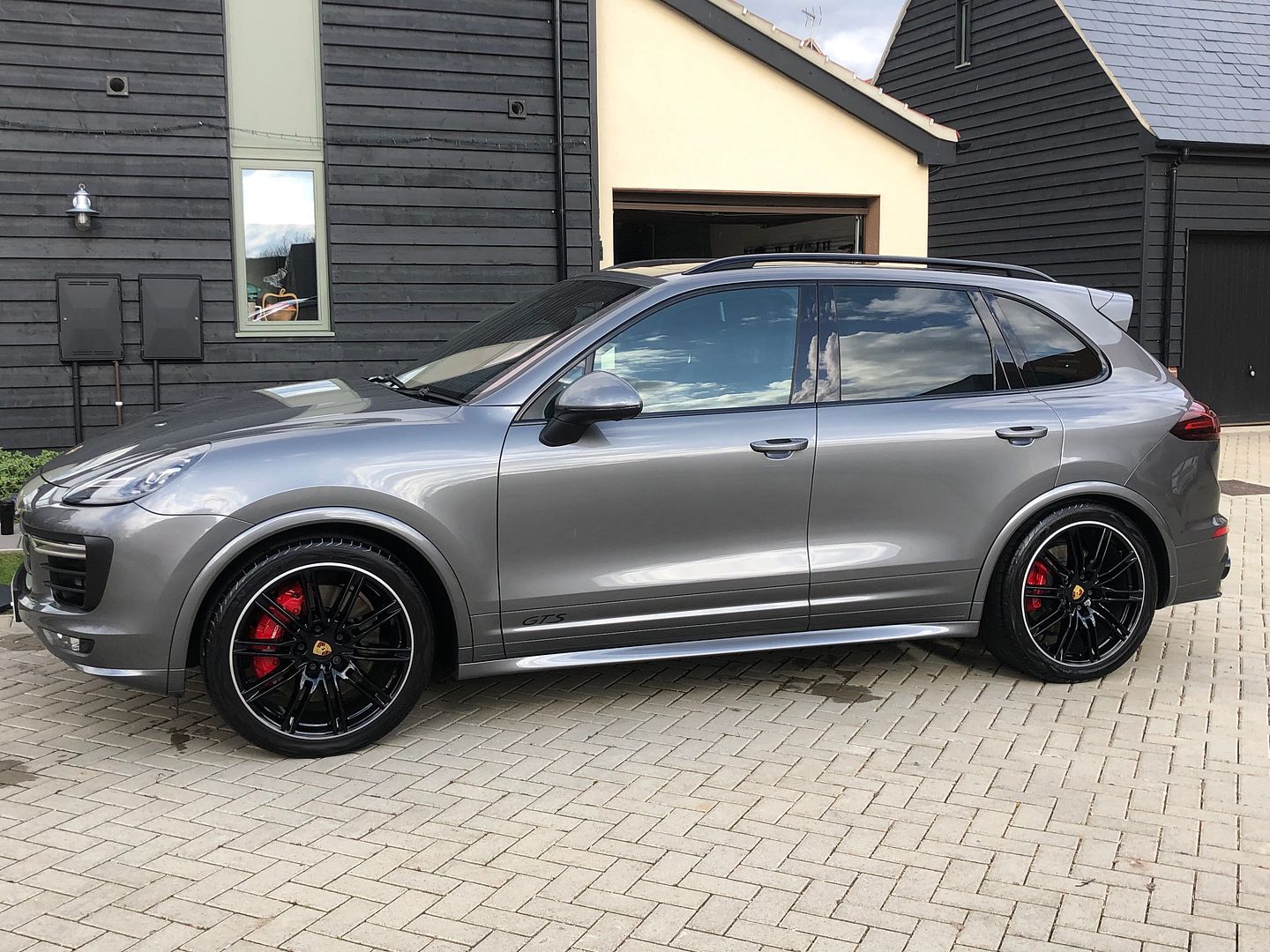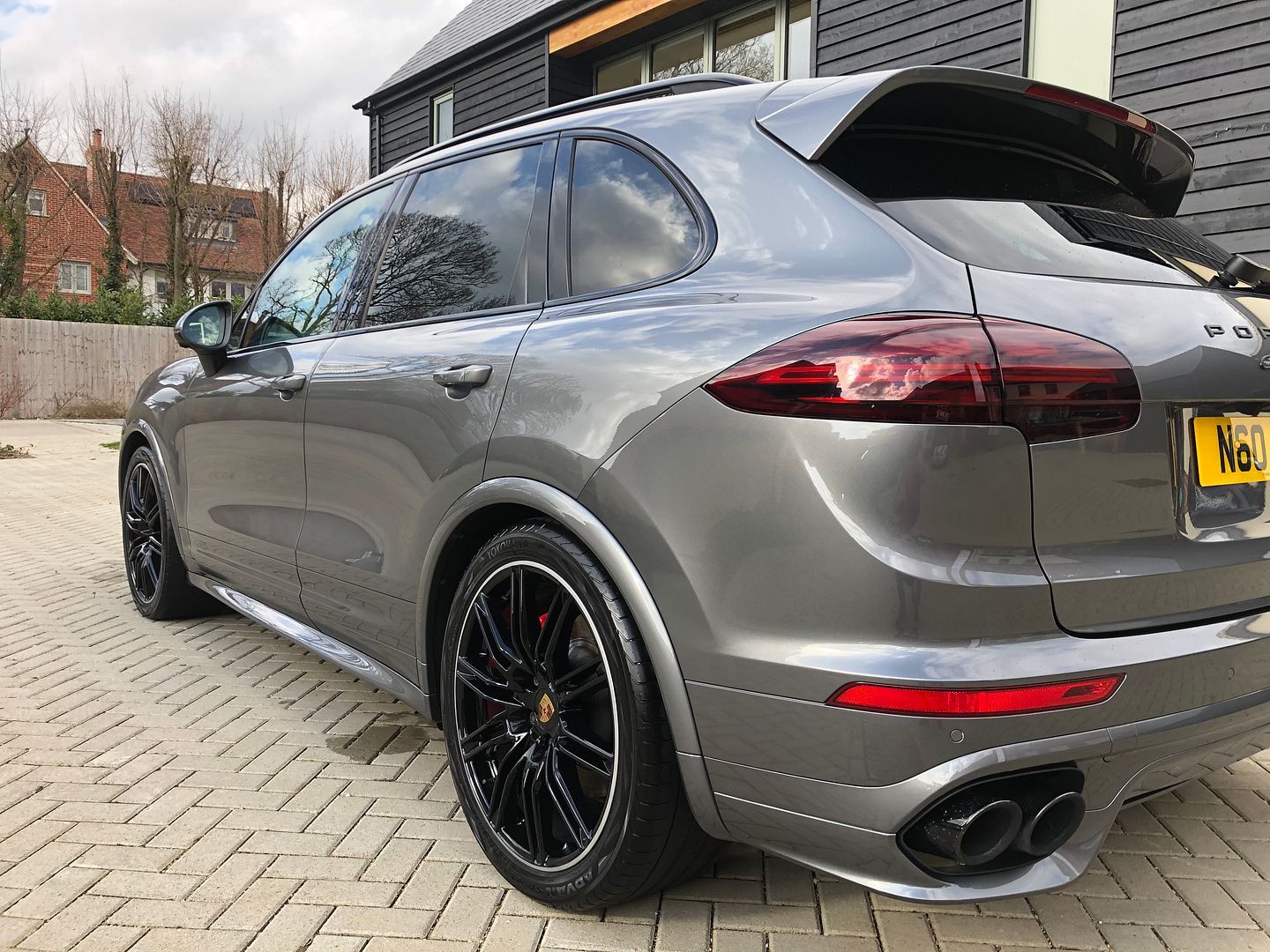 First impressions were slightly different, however. I loved the Macan and had no reason to change it other than the growing family. The initial switch between the two didn't work in favour of the Cayenne. I immediately missed the directness - the pdk box, the heavy steering, the shorter wheelbase - even to some extent the comfort (it was on 20" rims w/o air suspension, just PASM vs the 21" rims w/air & PASM on the Cayenne).
It took a few days of playing around with the Cayenne on different roads to get a feel for it. Now it's got completely under my skin.
It's not as up for it as the Macan is but it has a depth of talent which I think is far beyond the Macan. It's extraordinarily comfortable on a long run. Also very relaxing to drive, full stop. When you want to have fun - switch it into Sport mode on the transmission side of things (I don't bother tightening up the suspension as it has PDCC and is very composed in comfort mode) and it becomes a proper tearaway - cornering flat and doing a very good job of keeping understeer in check; holding some pretty impressive lines at pretty impressive speeds. The torque from the engine is incredible - it'll happily pull in 5th gear from 30mph with the same shove as a pretty powerful diesel. With lower gears, it presses you into the seat - particularly from 4k rpm, when you already feel like it's been picking up pretty quickly ahead of that point.
Love the space over the Macan - nice to see the kids having sufficient space back there, plus not having to give a second thought to what we take with us - it just gets thrown in the back.
It's not been bad on fuel either, considering its heft. Doubtless the Tiptronic and coasting function helps. The gearbox is the only real let-down IMO, being used to the directness and speed of the PDK on the Macan. But ultimately I'm averaging nearly 21mpg over 1k miles. I have seen 27mpg on the run back from Swindon OPC to home and regularly >25mpg on the motorway. When pushing on, it's more like 15mpg and in town around 17mpg. But in normal driving, I get around 22mpg which is about the same as I had from the MacanS.
I'm so pleased with it that I've brought forward the plans for the towbar to carry my Thule bike carrier - I had that fitted last week, plus had my Thinkware Q800Pro hardwired in.
It's currently in Cambridge OPC for a few niggles. Neither Porsche Swindon nor myself noticed that the previous owner liked opening the door with their key in their hand, so the alu trim in the drivers door is pitted and needs replacing. Swindon are picking up the bill. Plus the heated steering wheel button is intermittent in its operation so that's being investigated. If a new wheel is required then I'll be trying to do a deal to pay the upgrade price on an alcantara wheel which is the only option I'm disappointed isn't fitted.
Otherwise there's a small question mark as to whether the transfer box is beginning to show signs of a fault. I had two on my MacanS and there are similar symptoms (bit of slip when pulling out of junctions - juddering on tight lock - snatchy gearchanges).
But for anyone else considering the change, I'm very impressed with the Cayenne and can see this being a keeper.
Edited by Spuffington on Tuesday 6th April 16:11
Edited by Spuffington on Tuesday 6th April 16:12
I just posted a similar experience but going from Macan turbo PP to the cayenne turbo.

I think mine Macan shares the engine with the cayenne GTS of that generation. Although with a pdk gearbox which is a peach indeed. Provides much more feedback indeed as you mention..

Space and interior tech for me were the deciding factor, although my Macan already had apple CarPlay so it did not feel obsolete at all. Just that the new cayenne is another level of nice on top.



Type of gearbox in the Cayenne is there because it's suitability for towing I believe.
My heated steering wheel switch needs a pull and pause to make it work, is this a feature? A quick flick doesn't work.
I have a diesel S and love it to bits, great shove from low revs, great subtle noise and 600 miles on a tank full on a run.

Gassing Station | Front Engined Porsches | Top of Page | What's New | My Stuff