RE: Fuel Station Pumps Price To 10 Euros A Litre
Wednesday 27th April 2011
Fuel Station Pumps Price To 10 Euros A Litre
Why you shouldn't buy fuel in Stuttgart...
---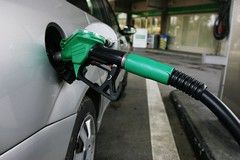 If you think the price of fuel is a bit steep at the moment, be thankful that you don't live in Filderstadt near Stuttgart; an Esso station there raised the price of a litre of super unleaded to 9.99 euros per litre (£8.85) on Easter Monday.
The station took the extreme price hike action in an attempt to discourage customers, after a fifth of petrol stations in the Stuttgart area ran out of super unleaded. The cause of the shortage was a mixture of Easter traffic, a bank holiday ban on fuel tankers, and logistical problems caused by the recent introduction of E10 ethanol super unleaded.
Despite warning signs on the pumps, several customers filled up anyway – to be greeted by a seriously beefy bill at the till. One was faced with €209.98 (£185.90) for the 21 litres of super he put in his BMW.
Rainer Hillgärtner, a spokesperson for the Auto Club Europa told German news site the Local that the case resembled the black market, commenting (brilliantly, we think) that "it's barely believable that global companies blunder into a supply bottleneck like drunks into a village pond. The relevant inspectorate has to investigate. That goes also for unfair price rises and exorbitant prices at the pump."
Gassing Station | Motoring News | Top of Page | What's New | My Stuff