RE: PistonHeads Sunday Service: 30/01/11
Friday 7th January 2011
PistonHeads Sunday Service: 30/01/11
New Year, new venue. Join us at the MINI plant in Oxford for the biggest Sunday Service yet.
---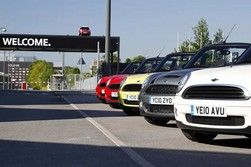 Sunny, in January?
Last year the PistonHeads Sunday Service reached new heights of attendance, coupled with some stunning locations too. Needless to say, we needed to start on a high for 2011 and the good people at MINI have helped us to do just that.
So mark 30th January in your diary, as this date marks the start of the 2011 Sunday Service season as we head to the MINI plant in Oxford. This venue has a capacity of 800 cars, making it our biggest Sunday Service yet. As usual the gates will open at 09.00 and we will close the event at 13.00.
For those new to the SS format, it's a great opportunity to see 799 (yours will be the 800th) other PH cars, buy yourself some breakfast and have a good look over a few manufacturer-supplied cars too. At MINI you'll be able to see all of the current line-up along with a few models from the heritage collection - including some true Mini icons - all displayed undercover in what they call the 'T- Building'.
The building itself can hold up to 800 people, so just as we did at Porsche Silverstone we will have to start a 'one out - one in' door policy once we reach capacity, but as people come and go we can't see this being an issue.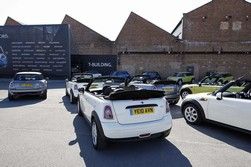 The T-Building, and some MINIs
Parking is strictly limited to 800 cars
and we will have to operate a
'no name on the list, no space'
policy at this venue as we imagine it will be rather popular. To ensure you are guaranteed a space please
add your name to the calendar
.
Once the 800 spaces have been filled you will be added to the reserve list; if this happens to you please do not arrive at the venue until your name appears on the guaranteed space list. As people remove themselves from the list, the reserves will move up accordingly.
See here for a map of how to find the MINI plant and the T Building.
See here for the calendar entry list and to add your details.
Thanks to everyone at MINI UK for making this happen and we look forward to seeing you there in a few weeks time.
Gassing Station | Events/Meetings/Travel | Top of Page | What's New | My Stuff