I appreciate the concept of economy may seem incompatible when talking about my new XKR-S but I'm shocked at how this car is performing.
My previous non-S XKR always averaged around 18-19mpg across various driving, peaking at 21mpg when driven very carefully and after being run in.
I expected my new R-S to be similar or even slightly worse given the extra power so imagine my surprise when my trip computer consistently showed around 23mpg over the first tank. This was from a wide variety of driving from stop start town stuff, to motorway and even a few high speed bursts (to 70mph

)....exactly the same kind of driving that I did day in, day out, in my last one. On filling the car up this evening, my manual calculations (well, the Road Trip app actually) showed the trip computer to be accurate to within 0.5mpg so it ain't lying!
On my way home tonight, with similarly mixed driving, it delivered 31mpg average at it's peak (for the first 15 miles or so after filling it up as it was pretty consistent 50-60mph driving through lovely Stoke) and after some faster driving it dropped to 24mpg by the time I got home an hour or so later. Check this out where you can see the average speed and distance to see it's not manipulated by driving really slow or a recent reset!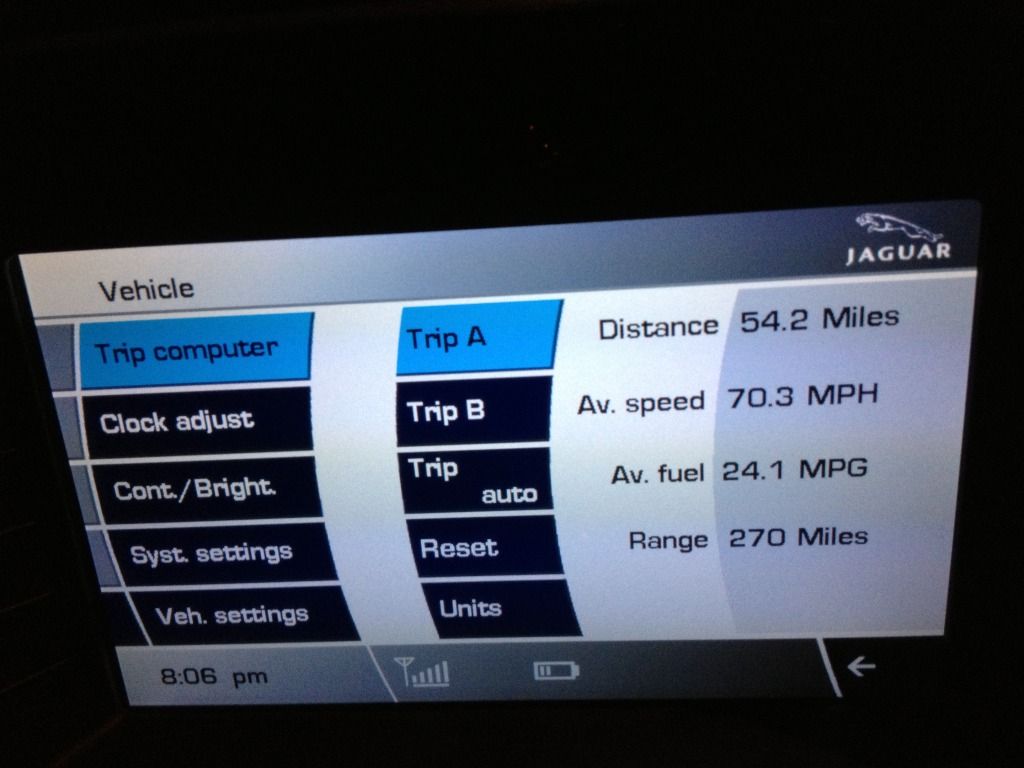 The only difference from my point of view is that I used any old fuel in the previous XKR yet have so far only filled up with 2 tanks of VPower in the new R-S. Or, have Jaguar engineered the faster car to be miraculously 30% more economical?!
At this economy, it's actually cheaper to run than our Range Rover Sport, where the 3.0 diesel claims to be averaging 28mpg on the trip but according to my app is really doing about 24mpg. With the dirty stuff being 5% more expensive, the diesel really is costing more in fuel than my 5.0 Supercharged car!
Can this fabulous economy really be down to the use of VPower then?
Gassing Station | Jaguar | Top of Page | What's New | My Stuff