Monday 24th September 2012
Black Tie and Pie 10/11/12 - new and improved
It was already good, but now it's even better...
---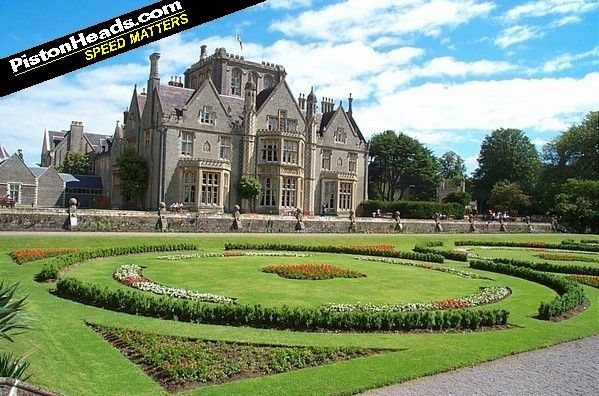 BTaP 2012 will have a few new features as we try and improve the night for our guests, while
keeping the ticket price the same as previous years
. Changes have been made throughout, some after listening to guest feedback and others simply to add more to what is already a great night.
BTaP is the traditional end-of-year PistonHeads party where guests wear black tie (BT) and we eat pie (aP). This year we'll be enjoying the sumptuous ambience of
Tortworth Court Hotel
in the heart of Gloucestershire's Cotswolds. It will have all the atmosphere of a Sunday Service and the glamour of the Oscars, and will be a fine opportunity for us all to relax and be merry with the option of not having to worry about driving home.
Here's the plan for the night.
Pre-dinner drinks in the bar
Three-course meal featuring pie
Wine on the table
After-dinner bar tab
Dancing to the DJ
A few words from the PH team
Charity raffle
Alcohol breath-testing for the morning after
So, what's new?
Mind magician Paul Roffman entertaining us in the bar before dinner and between courses at your table. Paul usually works the festival circuit and is far from your average cheesy entertainer. We think you'll like him.
PistonHeads casino with Roulette and Blackjack
A central stage to ensure all guests feel a part of the festivities
Lapel microphones and sound engineer to ensure the speeches are clear for all
Custom-made raffle tickets in one colour (regulars will understand the importance!)
Reduced raffle prizes but with an increase in quality
Better BTaP branding in and around the hotel
We would also like to reintroduce our sponsors, without whom none of this would be possible:
Oracle Finance: Yorkshire- and London-based PistonHeads finance partner, and supplier of sports and prestige cars, Oracle Finance returns for another year of BTaP providing the pre-dinner drinks to get things under way.
HPI: The leading vehicle history check providers, and PistonHeads classifieds partner, steps up once more to provide the wine of the table for dinner.
Adrian Flux Insurance: Insurance experts and long-term BTaP partner Adrian Flux returns to sponsor the after-dinner bar - always a popular addition to the event.
In addition, we would like to welcome a new partner for 2012.
Watchfinder: The online quality watch experts, and PH forum sponsors, will attend their first BTaP, enhancing our bar area with a range of watches in display cases. Their sponsorship will help us to bring quality entertainment to BTaP 2012. In addition, members of the Watchfinder team will be on hand if you have any questions or simply want to try a few pieces for size.
Tickets are priced at the normal rate of £75 per person, which includes your meal, pre and post dinner drinks and table wine in addition to all entertainment. To buy click this link.
Rooms are booked separately by contacting the hotel directly on 01454 263000.
If you plan to come along please email all table requests to us, along with any special dietary requirements (including vegetarian meal requests).
We look forward to seeing you there.
Gassing Station | Black Tie & Pie | Top of Page | What's New | My Stuff