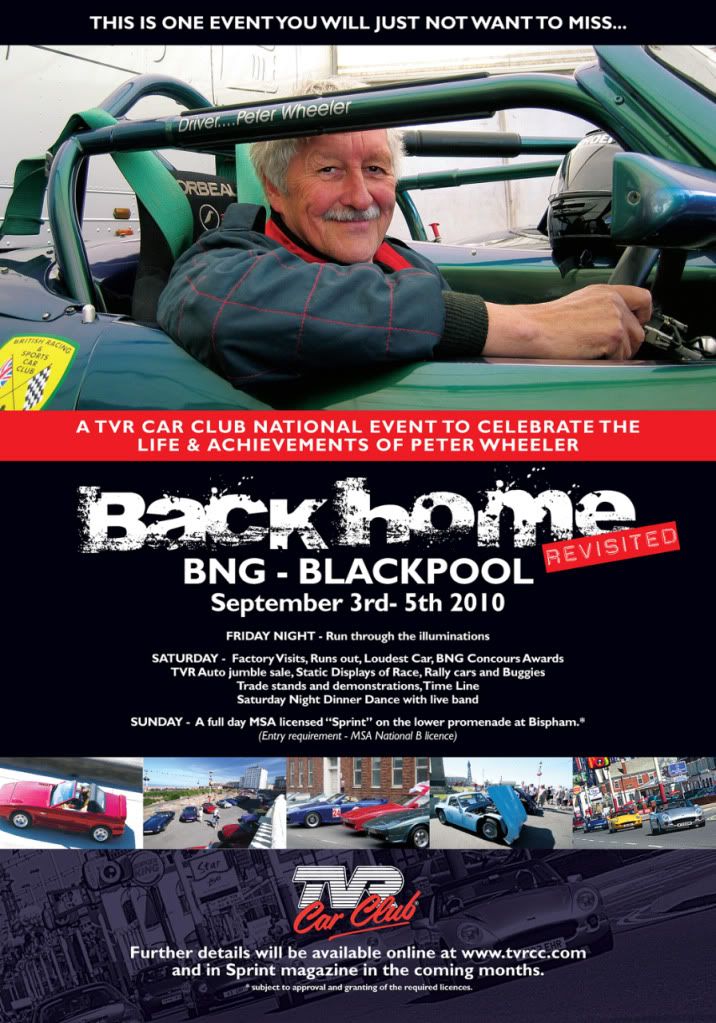 More information to follow as we confirm details but what we have so far is the full support of Blackpool council which is essential to make sure we get the best event.
Friday 3rd
Tonight is the 'Switch on' of the famous Blackpool illuminations and at the moment it appears that we will feature in this event and be the first cars through the lights.
Saturday 4th
All the usual events with the BNG concours, time line, static displays of race, rally and important road cars, loudest car, TVR parts autojumble, trade stands, run outs and trips round the now revilatised Bristol Avenue factory site to see what the TVR centric businesses run by Ex TVR staff are up to.
Hopefully much more we can't talk about at the moment .
Saturday 4th Evening
Dinner dance with Live band and DJ, charity auction and raffle.
Sunday 5th
MSA (in association with Longton and District Motor club) sanctioned 1/4 mile sprint down the North Shore promenade.
Open to all TVRCC members in possession of a National Class B (non race) licence.
This is the lowest form of licence required and merely requires you to fill in a form that includes a medical self certification as to your medical fitness to compete in Motor sports. (The MSA may/will apply for a report from your Doctor)
(Priority will initially be given to TVR driving TVRCC members and then opened up to non-TVRCC TVR owners, other marques may be considered if numbers allow)
You will also require a suitable crash helmet and overalls.
Entry will be £60 and depending on entry numbers we are hoping to allow at least two practice runs and three timed runs per entrant.
(Currently all conditional on the granting of the required licence by the MSA)
Click on the Banner below to go to the Blackpool Region Website for more detailed information on run outs etc.
Edited by V8 GRF on Tuesday 12th January 13:27
gemini said:
Weather is forecast as good
Even the yellow god may pay a visit
..I'll be coming up Saturday for the day Richard so whatever the `yellow god' up your way means (I hope it isn't some sexual thing you have going on the beach!!!) then see you Saturday

fingers crossed for some nice weather and a great turnout

Edited by jamer on Wednesday 1st September 19:48
Gassing Station | Big Northern Gathering | Top of Page | What's New | My Stuff