RE: Slot Car F1 Circuit Shows Bernie How It's Done
Tuesday 19th October 2010
Slot Car F1 Circuit Shows Bernie How It's Done
F1 circuit in miniature is a 'model' of perfection (groan)
---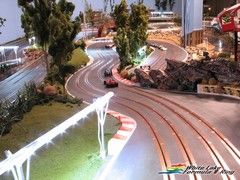 This is the White Lake F1 Ring, a fabulously detailed 145-foot slot car circuit. We stumbled across it while on an idle Google trawl looking for updates on the US GP circuit in Austin, Texas while trying to avoid doing some more constructive work and thought it was worth sharing.
Now, there's no doubting that model railways aren't particularly cool, but there's something a bit more exciting about a properly intricate slot car circuit.
And there's no doubting that White Lake – built by the wonderfully named James-Michael Gregory Harlan – is a proper labour of love. It has pits, it has grandstands, it has marshals, helipads, course cars and floodlights for a spot of Singapore-style night racing. In short, anything you can imagine stuffing into a GP circuit is there. Heck, the slots even tighten up on the corners so cars can't overtake.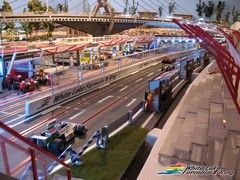 It's a deeply impressive undertaking, and we can only presume that Harlan, who is an exhibit designer by trade (hence the model-making talent), is either single or has a very patient other half…
You can take a closer look at the White Lake F1 Ring on Harlan's own blog, or by watching the video below…though we suggest that you might want to skip to 2m 41s, where the video goes 'in car'.
Gassing Station | General Gassing | Top of Page | What's New | My Stuff