Tuesday 28th June 2011
Porsche 911 Gets LS1 V8 Transplant
Detroit muscle meets German engineering
---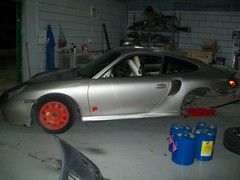 V8 engine. Porsche 911. It's fair to say that these two phrases are not easy bedfellows; the Porsche 911 is as synonymous with six cylinders - preferably of the horizontally opposed variety - as the British are with Queuing. We just wouldn't have it any other way.
But there are always those who like to mess with the status quo. One such fellow is '1dirtyZ' of LS1tech forums, who is in the process of slotting an LS1 corvette V8 into a Porsche 996 Turbo.
But before the Porsche purists cry foul and walk away from their computers in disgust, 1dirtyZ (shall we call him Mr Z?) is not exactly butchering a pristine 911. Instead, this automotive Dr Frankenstein has taken a written-off 996 Turbo, the victim of an engine fire, and brought new life to it, keeping the four-wheel drivetrain, but shoehorning in an LS1 lump.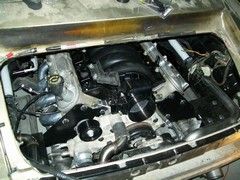 Yes, some will call it sacrilege, but this car was only going to moulder away to nothing - and it was a Tiptronic anyway, so it's surely better this way.
Mr Z hasn't finished the project yet (there's at least a rear bumper yet to go on), but you can have a look at progress so far in the videos posted below...
Gassing Station | General Gassing | Top of Page | What's New | My Stuff