Monday 24th October 2011
We Want To Build A Car Says BMW M Boss
'We have the technology, but not the business case'
---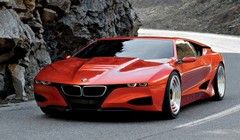 M1 Hommage - a nice idea, anyhow...
The head of product development at BMW M division has told
Inside Line
that he wants to develop a bespoke car 'in-house' as AMG has done with the SLS.
"From an engineering perspective we have the skills and we'd love to do it," said Albert Biermann. "We've discussed it several times but we've never been able to make the business case.
However the boss's comments suggest the more likely direction for the M division is working with the types of powertrain we're soon going to have to stop calling 'alternative'.
"Our job is to sell emotion and fun, using the technology that's socially acceptable at the time. Whether that's a combustion engine or an electric motor, we don't care."
Biermann also commented on the M5 swapping its V10 for a twin-turbo V8: "It's about employing the right technology at the right time and we're on a steep learning curve with turbos. We're getting damn close to matching the response of a naturally aspirated engine but with much lower fuel consumption. We cannot just keep adding power. M is not selling horsepower; that's not what we're about."
Sigh… anyone else remember 'the good old days'?
Gassing Station | General Gassing | Top of Page | What's New | My Stuff