Friday 10th February 2012
Audi TT RS Plus announced
RS TT gets a bit hotter with 360hp 'Plus' upgrade package
---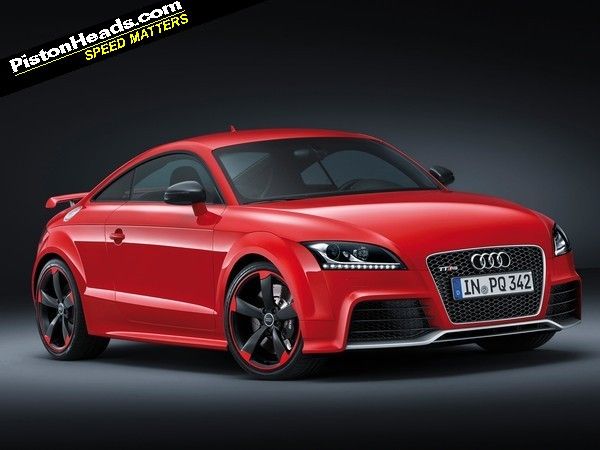 The new 360hp Audi TT RS Plus takes the already grunty and
purposeful TT RS
and, well, adds a bit more. While you might have thought a bit more soul would have been more welcome than a 20hp boost Audi clearly hasn't quite lost the obsession with playing horsepower Top Trumps and the TT RS Plus is all about the numbers.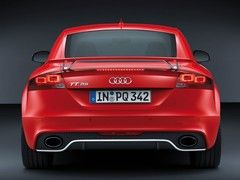 Mo' money, mo' power, etc
So it's a couple of tenths faster to 62mph, this now taking 4.3 seconds for the manual against 4.5 seconds in the standard RS. Add seven-speed S Tronic and this falls further to 4.1 seconds, again two tenths faster than the equivalent RS. Roadsters are a tenth slower. Plus also equals more Autobahn bragging rights, the RS's 155mph limiter now raised to 174mph.
The Plus format has been used before on Audi RS models of course, most notably on the previous generation RS6 Plus, which boosted the Cosworth-built twin turbo V8 from 450hp to a mighty 480hp. And made a tremendous noise doing it.
The TT Plus meanwhile gets the questionable red-rimmed 19-inch 'Rotor' wheels also seen on some RS3s, carbon mirror housings, black exhaust tips and a revised grille.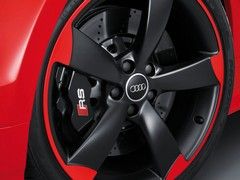 'Tasteful' wheels part of the package
UK availability has yet to be confirmed but German prices have and in its home market the TT RS Plus will cost 60,650 Euros for a manual coupe, compared with 56,750 Euros for the equivalent regular RS. In the UK the same car would cost £45,180, meaning you're unlikely to see much change from £50K if the Plus makes it over here. Arguably the kind of 'Plus' the RS really didn't need.
Gassing Station | General Gassing | Top of Page | What's New | My Stuff