Wednesday 22nd February 2012
Ferrari's 599 successor sneak preview
You'll have to wait for the full gen, but here's a glimpse of what to expect with the 599 replacement
---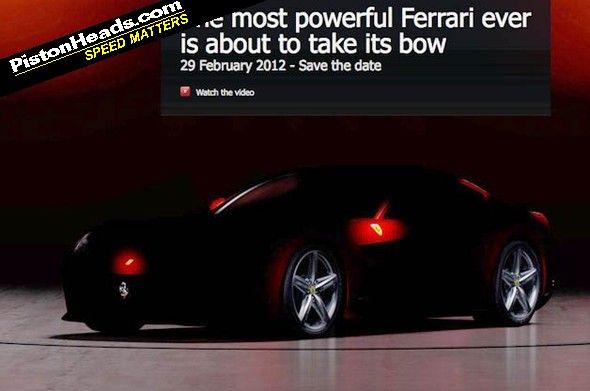 We might have been discussing the various web whispers about
the imminent successor to the Ferrari Enzo
of late, but we mustn't forget that there's a much more tangible new Ferrari on its way: the replacement for the 599.
The new car is expected to make its debut in the metal at the Geneva show, but Ferrari promises in this teaser video that we'll be treated to a virtual unveiling of the car, whose working name appears to be F620 GT, on February 29.
Until then we won't be able to tell you all that much about what Maranello is describing as 'the most powerful Ferrari ever'. Other than the fact that it's going to be rear-wheel drive and will come fitted with a 710hp-or-so version of the 6.3-litre V12 also found in the Ferrari FF and a seven-speed twin-clutch gearbox.
Judging by the video, we can also tell you that Alonso and Massa have taken one for a spin. Unfortunately any more information on the new car is just going to have to wait. But the good news is you won't have to wait all that long...
Gassing Station | General Gassing | Top of Page | What's New | My Stuff