Friday 27th April 2012
Pic Of The Week: Lotus Exige S
We like the new Lotus Exige S rather a lot and it seems you do too - a worthy POTW then!
---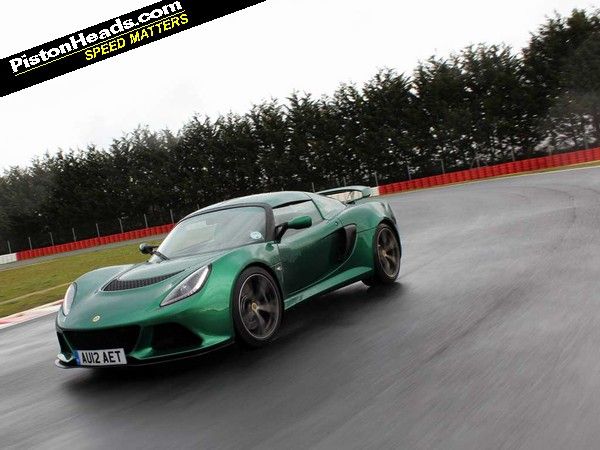 The bigger picture still has some wobbles. But this week we've been able - at last - to put buyouts and PR stunts aside and concentrate on what we really love about Lotus. Things like the new Exige S.
Chris Harris wrote about it exclusively for PistonHeads and followed that up with a video, both of which should underline what a big fan he actually is. Cripes, he even mentioned it in the same breath as a GT3!
The weather was shocking when we visited Hethel last week - as you'll see from the onboard video with development boss Matt Becker in our story on the new test track. You can talk all you like about metaphorical dark clouds over the place but even in these conditions the Exige shone, the trick 'learning' traction control system really able to strut its stuff. It takes some confidence in the electronics for Becker, in the passenger seat of a 350hp Exige with yours truly at the wheel, to say "go on, foot to the floor ... now!" at the apex to the Hethel track's Andretti hairpin, huge puddles all over the place and rain pouring hard.
Truly, there's a man with faith in his own work!
The beauty of the Exige is that, even with trick electronics, it doesn't dumb the experience down one bit. And, as you'll be seeing next week, this isn't the only new Lotus we've been driving. Time to celebrate with a new Lotus themed desktop then!
Traditional (4:3)
Computer widescreen (16:10)
TV widescreen (19:9)
Portrait (smartphones)
Gassing Station | General Gassing | Top of Page | What's New | My Stuff