Tuesday 31st July 2012
918 Spyder shows off Martini livery
Hybrid supercar heads off for 'ring testing and gets a lick of paint to celebrate
---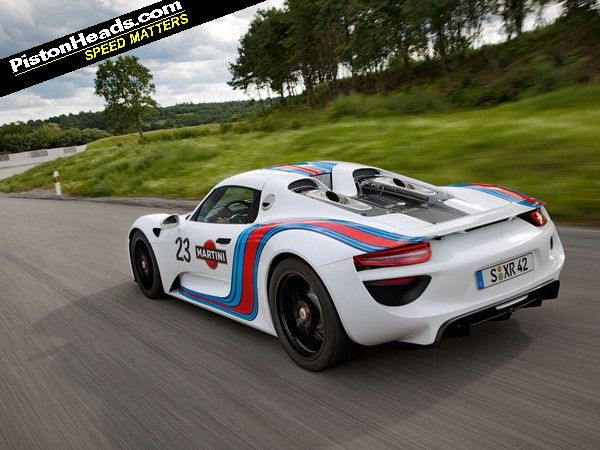 Testing for the
918 Spyder
is well under way and having driven it for as long as possible sans bodywork and looking like some Mad Max special Porsche has had to attach the panels. And taken
an innovative approach
to the usual prototype camouflage.
As in, there is none.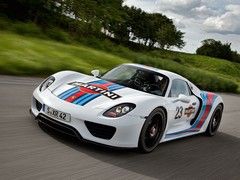 Second in a series of classic liveries
What it's doing instead is celebrating past racing glories with a number of motorsport related liveries intended to distract us from looking too hard at the 918's form. Which is a bold approach, it has to be said, but given that testing at the 'ring is about to start and every spy snapper in the world will be out lurking in the woods there's little point trying too hard with the conventional bin bags and Gaffa tape approach.
And so as it heads off to the 'ring the Spyder's latest livery evokes memories of classic Martini Porsches of the 70s. Though the sponsorship only lasted from 1973-1978 and the colours are equally associated with rallying Lancias, iconic cars like the 917, 908, 935 and various RS and RSR 911s mean Porsche still stakes an emotional claim.
Cue the 'super sports car for the future' that celebrates racing cars of the past PR guff. Which we'll fall for every time when supplied with pictures like this!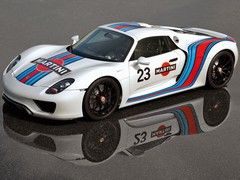 But will you be able to spec this as an option?
Taking a more hard-headed look at what Porsche is out to achieve with the 918 Spyder, it has officially declared a target Nordschleife lap time of 7min 22sec. That's six seconds faster than the Carrera GT (the 918 Spyder's spiritual predecessor), but still four seconds slower than a 911 GT2 RS, showing there's life in the old tech yet.
There's certainly more to hitting that target lap time than a 911 with two big turbos and two bigger balls, the Spyder combining, as previously discussed, a 570hp 4.6-litre V8 with a hybrid module on the rear axle and additional electric motors on the front for a combined 770hp. At least. Other development goals include a top speed of over 203mph, 0-62mph in less than three seconds, at least 15 miles of electric-only range, CO2 of around 70g/km and combined fuel consumption of around 84mpg.
So, when do we get to see one in Gulf colours?

Gassing Station | General Gassing | Top of Page | What's New | My Stuff