Wednesday 20th February 2013
Audi RS Q3 - official
First RS-branded Audi SUV confirmed with 310hp five-cylinder turbo
---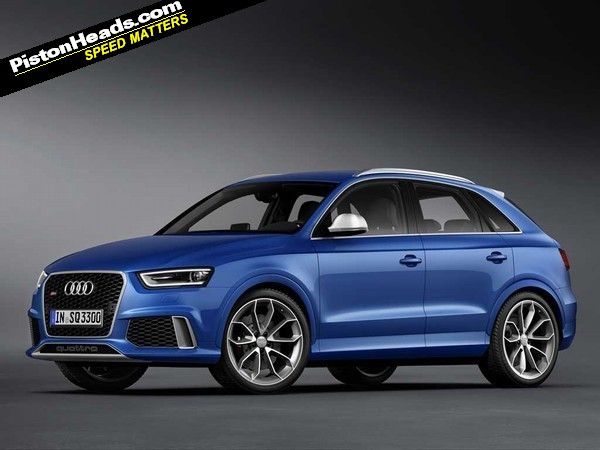 You might not like it, but it's happening – Audi's RS badge is being applied to the rump of a soft-roader. The RS Q3 is now officially a reality, and this morning Audi's ended
months of speculation
by giving us our first look at the new car.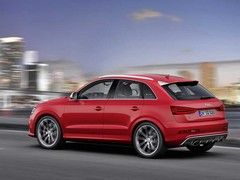 2.5-litre five-cyl will provide 310hp
It'll be the eighth car to join the RS range, and the fourth RS model launched this year. Power will come from a version of Audi's 2.5-litre five-pot TFSI engine, although in the RS Q3 it's been detuned to 310hp, rather than the 340hp it's endowed with when fitted to the
TT RS
and
RS3
.
That peak power is delivered between 5,200 and 6,700rpm, while maximum torque of 310lb ft comes in a spread between 1,500 and 5,200rpm. The result is a 0-62 time of 5.5 seconds and a top speed that's electronically limited to 155mph.
It's been designed to be efficient, too – for the first time, Audi's fitted the five-pot with a stop-start system, and there's also a regulated oil pump that only supplies lubricant when it's needed. We'd hate to see the repair bill if it stops 'regulating' in 15 years' time, mind.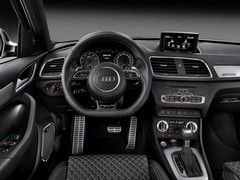 Flat-bottomed wheel is an RS signature
As you'd expect, there's also a three-mode adaptive dynamics system that alters exhaust note, steering feel and throttle pedal sharpness, as well as RS-specific sports suspension that lowers the car by 25mm. Visuals are dealt with by way of a chunkier bodykit and a smattering of gloss black highlights, and there's also a unique-to-the-RS Sepang Blue paint finish.
Audi is proudly pointing out that the RS Q3 is creating a "new performance class" - that is to say, the fast, compact SUV. And while BMW USA comes close to matching the RS's power levels with the 300hp X3 Xdrive35i - the closest thing out there - its performance doesn't quite tally. So it seems Audi has a point. Do we want one, though? Well, the jury's still out. We wouldn't mind comparing one with a quick Evoque, though. Hint, hint, Land Rover...

---
Update: We asked Audi why exactly the RS Q3 will have less power than the TT RS and the RS3, with which it shares an engine. Here's what they said:
"The ideal harmonisation of power and road performance is one of the primary goals of quattro GmbH for every RS model. Here, the focus is not on nominal values, but rather in the ideal configuration of the potential of the specific model. For this reason, the power limit for the RS Q3 was set at 310hp - the top value in the compact SUV segment. The acceleration, torque and top speed of the RS Q3 are all benchmark in the segment."
We'll leave you to draw your own conclusions!
Gassing Station | General Gassing | Top of Page | What's New | My Stuff