Wednesday 18th September 2013
MTM Audi S8
Turbocharged Audi goes to MTM with predictably mad results
---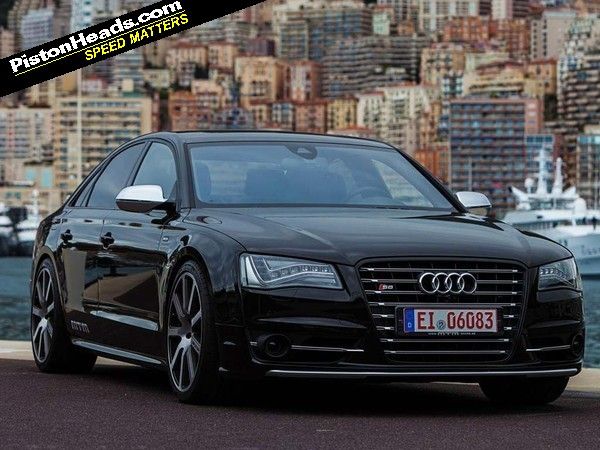 Even before Ronin, the
Audi S8
was a cool car. Subtle almost to the point of invisibility, it has always been quick, stylish and luxurious. That it isn't the last word in feedback doesn't matter like it does with Audi's smaller cars, and who doesn't love a big fast saloon?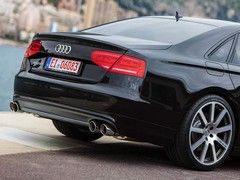 Get rid of that badge for the full Q-car effect
The current car is powered by the same 4.0-litre twin-turbo V8 as also found in the
Bentley Continental GT
. But now MTM has had a fiddle and produced some rather ludicrous numbers. A Powerkit has pushed power from 520hp to 650hp and torque from 480lb ft to 590lb ft, presumably through some work to the turbos and electronics.
That's quite a leap, especially for just 4,491 euros (£3,770). For those after the ultimate S8, a package including a cat-back exhaust is available, creating 660hp and 594lb ft. But given that costs another 4,000 euros (£3,357), we'd be tempted to stick with the 'regular' Powerkit.
Now the car you see here is kitted out with all the latest MTM upgrades, including some new 21-inch wheels (5,231 euros/£4,390), an 'F-Catronic' module for the air suspension (1,750 euros/£1,468) plus a brake upgrade at 6,700 euros (£5,623). Whilst the brakes might be a wise move, there remains the potential for a completely standard looking S8 with 650hp. Wonder if it still has cylinder deactivation?
Moreover, the latest S8 has also depreciated in the best large fast Audi fashion. This S8 would have been an £80K car last year. Less than 10,000 miles later, it's available at an Audi dealer for £60,850. It could be a 650hp S8 for less than £65,000. We cannot condone using it to outrun French police however...
Pictures: WCF
Gassing Station | General Gassing | Top of Page | What's New | My Stuff