RE: VW Golf GTI vs BMW M135i vs Mercedes A45 AMG
Monday 28th October 2013
VW Golf GTI vs BMW M135i vs Mercedes A45 AMG
Three very different ways of going fast for less than 40 grand
---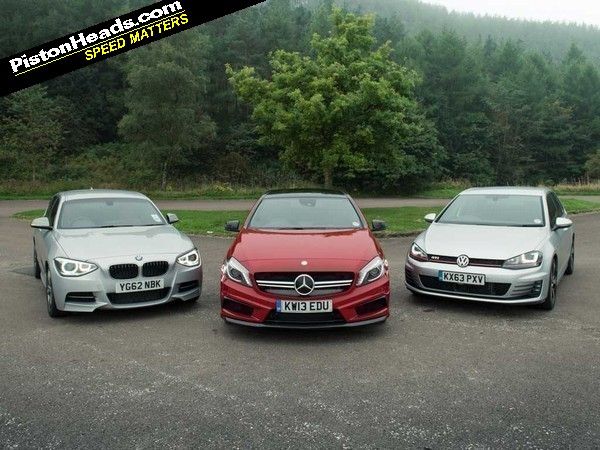 What, and you thought because
BMW
has taken its
M135i
back we'd stop talking about it?
Planned as a culmination to our series of M135i versus the world articles, what follows is perhaps a wider ranging story about the state of the modern 'everyday' performance car. By everyday we mean the kind of car you might possibly buy on a company ticket, or one that'll cover all household bases from the school run to the early morning hoon and occasional track day. So at least the option of five doors, vaguely realistic running costs, a boot big enough to carry the shopping and comforts (actual and creature) to keep you sane on the daily grind.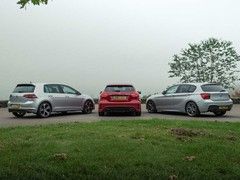 Fast cars for, whisper it, the real world
Not so long ago when the car buying hierarchy was more straightforward and more clearly defined your choice would have been progressively faster and fancier European front-driven hatches leading to, probably, something rear-driven and Bavarian. The alternative to that probably Japanese,
turbocharged Imprezas
and the like requiring (financial) commitment to run but giant-killing on the right road and in their day.
But the goalposts have moved, and how. Taking our M135i comparisons as a core, 30-ish grand will today buy you a Ford, VW, Audi, BMW, Mercedes, Renaultsport or similar with enough power (200-odd horsepower to 300-plus) to blow supposed performance models of just a decade ago into the weeds. You can have front-driven, rear-driven or four-wheel driven, four-cylinders, six-cylinders, manual gearboxes, autos, dual-clutches and in pretty much any combination you fancy. Active differentials, 'e-diffs' and good-old fashioned mechanical locking diffs, adaptive dampers and specific outputs in the supercar scaring league - all are now available for relatively 'sensible money'.
To specifics though.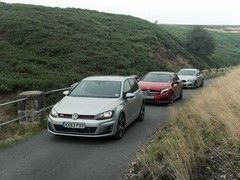 Take your pick of tech and fill your boots
For this test we've got a 230hp front-wheel drive
Golf GTI
with the optional active locking differential and a six-speed manual gearbox. At £27K it's the cheapest here. Option two costs, on paper, nearly £10K more but experience suggests BMW dealers are amenable to haggling and in reality the price difference between the Golf and M135i is narrower than it appears. Unless you're talking performance. Comprehensively hammering the final nail into the Japanese rally rep coffin, meanwhile, is new arrival to this party, AMG. 180hp per litre from a 2.0-litre four would have been for the committed just a few years back but now comes with a Mercedes badge on the front, four driven wheels, a hatchback body and more youthful swagger than we've ever seen before.
Consider this as your homepage; from here you can click to more in-depth assessments of the cars and some conclusions. And for reference here are links to our comparisons between the BMW and other cars we picked out in this vaguely defined up to c. £30-£40K/c. 200hp-300hp bracket.
Enjoy!

---
Introduction and comments
Volkswagen Golf GTI Performance
BMW M135i
Mercedes A45 AMG
Verdict

---
VW GOLF GTI*
Engine: 
1,984cc 4-cyl turbo
Transmission: 
6-speed manual**, FWD
Power (hp): 
230@4,700rpm
Torque (lb ft): 
258@1,500-4,400rpm
0-62mph: 
6.4sec
Top speed: 
155mph
Weight: 
1,351kg
MPG: 
47.1mpg
CO2: 
139g/km 
Price: 
£27,480

*GTI Performance model tested
**6-speed dual-clutch optional

BMW M135i
Engine: 
2,979cc 6-cyl turbo
Transmission: 
6-speed manual*, RWD
Power (hp): 
320@5,800rpm
Torque (lb ft): 
332@1,300-4,500rpm
0-62mph: 
5.1 sec (auto 4.9 sec)
Top speed: 
155mph
Weight: 
1,500kg
MPG: 
35.3 (37.7 auto)
CO2: 
188g/km (175g/km auto) 
Price: 
£30,525

*8-speed auto optional


MERCEDES A45 AMG
Engine: 
1,991cc 4-cyl turbo
Transmission: 
7-speed dual clutch, 4WD
Power (hp): 
360@6,000rpm
Torque (lb ft): 
332@2,250-5,000rpm
0-62mph: 
4.6 seconds
Top speed: 
155mph (limited)
Weight:
1,555kg
MPG: 
40.9
CO2: 
161g/km
Price: 
£37,845


 

 
All mpg figures NEDC combined, all prices before options

---
Further reading...
BMW M135i vs ... the world!
BMW M135i vs Toyota GT86
BMW M135i vs Porsche Cayman 2.7
BMW M135i vs Renaultsport Megane 265
BMW M135i vs Audi S3
BMW M135i vs used Porsche 911 Carrera
Photos: PrimeExposures
Gassing Station | General Gassing | Top of Page | What's New | My Stuff