RE: Google's car is go...
Wednesday 28th May 2014
Google's car is go...
Autonomous city vehicle prototype revealed. Not coming to the PH Fleet soon
---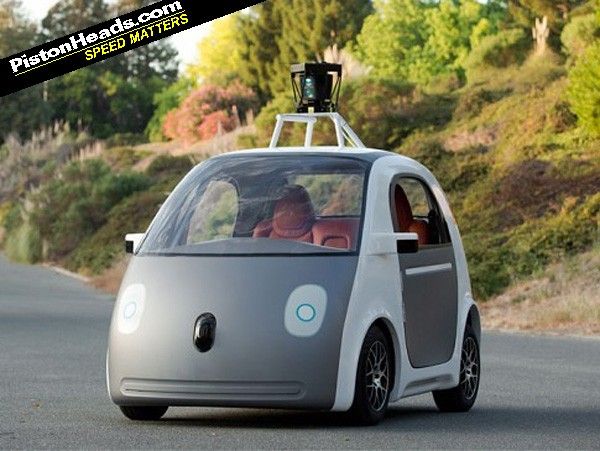 So on the same day PH features one of the most exciting driver's cars
ever produced
, Google reveals its first driverless car. Oh Lordy.
Having adapted conventional cars for its previous driverless projects, Google has now designed a car from the ground up. As you can see, it has been styled to appear as inoffensive and 'nice' as possible, with a face that looks like something from a Nintendo game made from squishy foam. Aww.
Of course the reason for the soft front is the same reason for the 25mph limited speed; perceived safety. Google wants its autonomous tech to be as unintimidating as possible, which will take some considerable work given this is a car without pedals or a steering wheel. There are just stop and go buttons. Well, that's the eventual plan but the initial 100 prototypes will be fitted with additional controls so one of Google's test drivers can take over if necessary. No further details on how that works just yet...
Google's head of the self driving project is Chris Urmson who said the car is "something that will allow us to really push the capabilities of self driving technology, and understand the limitations". He expects the 100 test cars to be on the roads around Google's Silicon Valley base within a year.
Vid here crammed with Google sickly sweetness and old people.
Gassing Station | General Gassing | Top of Page | What's New | My Stuff