Thursday 23rd March 2017
Skoda Superb Estate 280 Sportline: PH Fleet
We welcome the latest addition to the PH fleet, our answer to Thunderbird 2!
---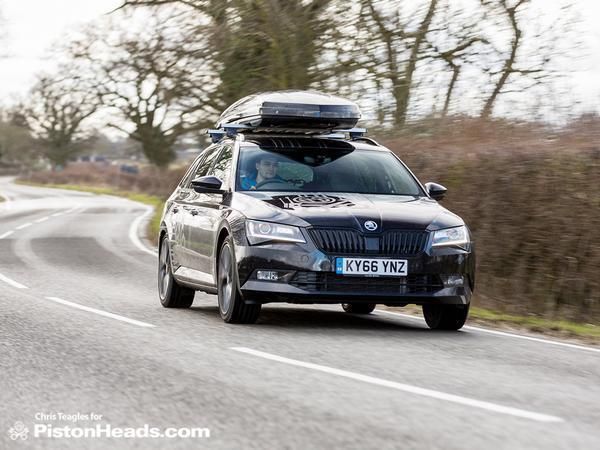 As you may know, here at PH we run a lot of events. Most weekends some (or all) of the PH team can be found camped out at a Sunday Service, a show, a motorsport event or something similar. If not, then they can probably be found on a photoshoot, on a new car launch or on their way to the airport... for a new car launch. Regardless of the endeavour, the bottom line is that we often require a load lugger to subsidise the regular PH Fleet, as they are not typically vehicles chosen for their practicality. This became especially apparent after Dan and I spent a significant amount of time trying to fit some wheels and tyres into his F-Type. It didn't end well for anyone, but the tyres did make it...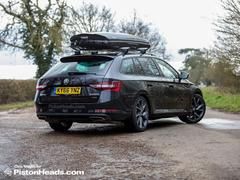 Initially we approached manufacturers about a van of some sort but - while we haven't permanently ruled this out - we wanted to find something similarly capacious but which was still slightly more, well, 'PH'. What we needed was a mobile HQ that could support all of our activities, PH's answer to Thunderbird Two if you will. And that's just what we have in the form of the latest Skoda Superb, although it is less green. And can't really fly.
Anyone who has ever travelled in a Superb will be able to testify to the fact that they are huge. Though the exterior dimensions suggest that it is going to be big, they don't prepare you for just how vast the car is. Obviously being the estate version only adds to this, but the first time I got in the car and shut the door I swear I heard an echo. But is it big enough to haul around all our Sunday Service equipment? Yes and no. Given it has a mammoth 1,950 litres of capacity with the seats down, it easily swallowed our gear. However, we often have to carry passengers in the back of the car at the same time as all that gear, so we've installed a set of Skoda roof bars which allowed us to make use of our Thule Dynamic L roof box, last called into action for our 2016 Le Mans trip. Now we can carry all of our stuff, have our cake, eat the cake and share it with the passengers travelling in limo-like comfort behind. Estates with roof boxes do look cooler as well, don't they?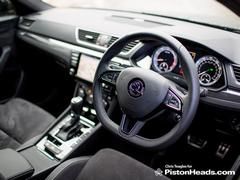 And talking of looks, I struggle to see how anyone could say the car doesn't look fantastic. Skoda deserves credit for making the latest Superb look both subtle and stylish, and for disguising its size. This is also enhanced by the exterior styling additions that the 'Sportline' package brings, which mainly involves a lot of gloss black pieces of trim (the full spec sheet can be seen below). On top of this, we've gone with black paint and anthracite graphics for a stealthy approach.
But enough talk of practicality, this is PH! The snappily titled Superb Sportline Estate 2.0 TSI 280 4x4 DSG is not your average Skoda, as you may be able to tell. Featuring the same turbocharged 2.0-litre EA888 turbo as found in a number of other Volkswagen group cars, in this application it boasts 280hp. This is mated to its also ubiquitous six-speed DSG transmission and power is transferred to all four wheels via the Haldex 4x4 system. In simple terms, you could sum up the car by saying it is a bit like a Golf R with slightly less power, loads more space and a lot more rarity! In terms of real world performance, this analogy can be carried over too: it goes, stops and turns a bit like a Golf R with slightly less power, loads more... you get my point.
Initial impressions suggest that the juxtaposition of great luxury, epic practicality, a surprisingly capable chassis and plentiful performance is a bit of a winner. Thus far all members of the PH team who have driven it have fallen head over heels in love with the Superb and it seems that we've ended up with the perfect car for our needs. We've got a full year to get to know the car and find out just how capable it is. It will be kept busy by attending all PH events, so if you see it at a Sunday Service please feel free to have a good nose around; and if you do see it out on the road be sure to give us a toot and a wave!
---
FACT SHEET
Car: Skoda Superb 280 Estate
On fleet since: February 2017
Mileage: 2,958
List price new: £35,300 (As tested £40,255 comprising £600 for CANTON sound system, £435 for Crew protection assist and rear side airbags, £750 for Dynamic Chassis control, £350 for front and rear parking sensors, £250 for heated front seats, £765 for integrated towbar, £45 for ISOFIX on front passenger seat, £150 for LED light package rear, £350 for rear-view parking camera, £90 for rear backrest releases from boot, £100 for temporary space saver spare wheel, £150 for variable boot floor, £600 for virtual pedal, £20 for waste bin in door panel and £300 for wireless phone charging with bluetooth)
Last month at a glance: Welcoming the behemoth Skoda to the fleet!
[Photos: Chris Teagles]
Gassing Station | General Gassing | Top of Page | What's New | My Stuff