Saturday 1st April 2017
Mercedes-AMG GT Roadster: PH Video
AMG took us to Arizona to drive the GT Roadster in the sun ... and it snowed; we kept the roof down though
---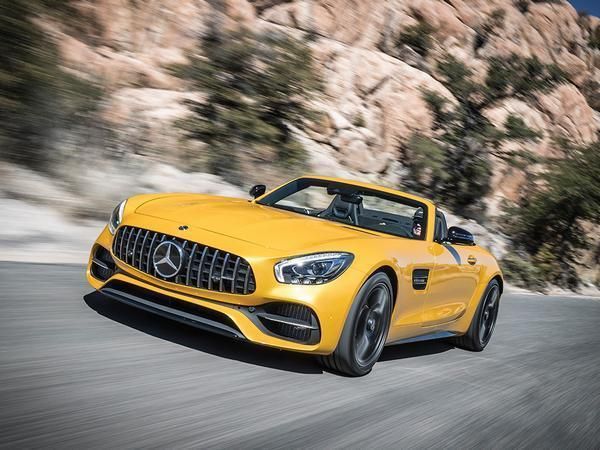 You will likely be aware we've been fortunate enough to drive the new Mercedes-AMG GT Roadster recently. And very nice it is too.
To bring you up to speed you can read about how it compares with its rivals and then find out how it actually drives in our review. If you want to see Dan getting a bit drenched trying to prove his roadster driving credentials by putting the GT C Roadster through its paces in a snow shower then here's the vid. Being from Yorkshire and typically bloody-minded he did so with the roof down. In a short-sleeved shirt. Which seems to have made a number of YouTube commentators incredibly cross, on the basis they seem to think a few spots of rain on the GT's interior will ruin the leather and fry the electrics.
"PistonHeads... you are a bunch of A-holes!" says one, before going on to direct some specific anger at Dan himself. "You are the ultimate douche and you are ridiculous! Mercedes-AMG should beat you up, idiot!?" It goes on. "How could you show no respect to the expensive interieur? Oh... of course, it isn't your own car at all...! Complete idiot... You are a bunch of selfish arrogant assholes!" Ouch.
Among it all there is at least one comment crediting the shirtsleeves in the snow look and - even more shockingly - a genuinely insightful and polite conversation between two YouTube users on the relative merits of the GT versus the 911 Turbo Cabriolet. In which they - incredibly - listen to each other's points and then politely agree to disagree. Truly, wonders never cease!
Anyway, watch the video here. And make sure you have a browse of the comments thread once you're done!
Gassing Station | General Gassing | Top of Page | What's New | My Stuff