Thursday 6th May 2010
TVR - A British Affair
Mark 14th August in your diary if TVRs are your thing
---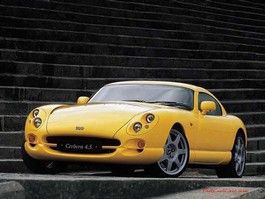 At the moment, it seems you can barely move for summer TVR events. But one event in particular that we heard about seems to appeal to everyone in the TVR community.
When it comes to all good things British, TVR is right up there and 'A British Affair' has created a TVR event that not only celebrates this Great British Sports Car, but also includes tributes to other aspects of British creation.
On Saturday 14th August 2010 droves of Blackpool's finest will make their final approach to Old Warden airfield for a celebration of British engineering at its best. Not only will you be able to take a look at a fantastic collection of TVRs, you'll also be able to watch some special aeroplanes providing an airborne spectacle - and the roar of a Merlin aero engine is probably the only thing that sounds better than a de-catted V8.
Other attractions include:
*  The Bloodhound Supersonic Car: Get a rare opportunity to learn more about this awesome project at one of the series of informal talks on offer from Richard Noble OBE
* Trade Stands and Displays – some of whom will be regulars at TVR events and others who are appearing for the first time
*  An Autojumble of TVR parts.  An opportunity to pick up that hard-to-find part, not to mention offering you an outlet for clearing out some of your surplus parts (thus creating room for all the spangly new bits you find)
*  There will be ' extra special' TVRs…… from road cars to race cars!
*   An early evening flying display featuring those traditional British favourites, including (among others) a Spitfire and a Hurricane
*  A static aeroplane display – including a Mark V Spitfire – (featured in the film 'Pearl Harbour'), which is undergoing a complete overhaul in one of the hangars.
* In addition there will be a quiz, an auction, drives around the surrounding countryside, cars for sale, rolling road runs and a wealth of expertise from TVR owners.
*  After the flying display there will be a Great British Barbeque, helping to boost your energy levels for the HUGE PARTY which follows.
The goal is to offer something for everyone and the area is child-friendly, with a great playground and loads of space to run around and exhaust little people.  (Big people may run around too, of course). The entry ticket is priced between £20-£25 per adult for the weekend
Camping is on offer and special rates have been negotiated at a hotel a couple of miles away if camping isn't your thing. Sunday morning offers a flying start, with a Full British Breakfast – of course!
We will of course be keeping all our TVRs together (pre-booking advised), to create their own spectacle for a substantial crowd of onlookers!  Booking forms and details are available on the Cambs Region Website.
Gassing Station | TVR Events & Meetings | Top of Page | What's New | My Stuff