Friday 10th December 2010
Pic Of The Week: G55 AMGs
Ice, and a slice of automotive iconography from M-B
---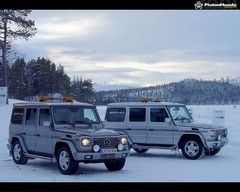 Click to preview
It may not be the most artistic photograph in the world, POTW fans, but for us this one perfectly captures the lines and character of one
(Two, surely? Ed.)
of our favourite automotive sculptures. And on the eve of PH's imminent Sunday Service visit to Mercedes-Benz World, we reckon it deserves a run round the block in what is the closest PH gets to a weekly 'culture' spot...
More to the point, the hewn from granite 'Gelandewagen' from M-B is shortly to return to the UK with right hand drive, a fact we were reminded of by this image captured on location in Arjeplog, Sweden at the AMG Winter Sporting Academy. And then we thought, if we remind M-B how much PHers love these cars, they'll probably let us have a go in one. Is that so wrong?
Triple diff-locks, rugged body-on-frame build, no-nonsense styling and the guts to go-anywhere - it's just a shame we can't bring our picture to life with the rumbling V8 soundtrack of these two 507hp examples powered by AMG.
Normal (1280x1024)
WideScreen (1440x900)
SuperSize (2048x1536)
Gassing Station | General Gassing | Top of Page | What's New | My Stuff