Monday 17th January 2011
PH2: E-Bike Races To Podium
Electric bikes on a charge. (Sits Vac: PH headline writer reqd.)
---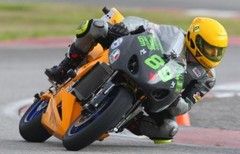 158mph, but does it sound right?
You probably know that since 2009 there's been a class at the Isle of Man TT races for electric bikes. Last year the winning bike nearly broke the magic 100mph average lap and topped 135mph through the Sulby speed trap. This year someone is bound to break into three figures, especially if an electric bike's recent performance in America is anything to go by.
A bike prepared by the SWIGZ racing team and ridden by a bloke called Chip Yates was entered into a round of the WERA Heavy Superbike Twins race in California and finished third. That's against conventional petrol-burning race bikes. Amazing result, but it's the electric bike's top speed that's caught my eye: 158mph. Of course, short circuit racing is a very different game to the TT. The Americans would probably have to turn their bike down a bit for it to manage one 37 mile lap of the TT course.
So are we going to see electric superbikes on the road? Not for a long time I'd imagine. Electric scooters strike me as a good idea, but an electric sports bike not really. For one thing there's the lack of noise. A couple of years ago I rode a Ducati Desmosedici, one of the best sounding engines I've ever heard. A Ducati that hummed wouldn't be the same.
Gassing Station | Biker Banter | Top of Page | What's New | My Stuff