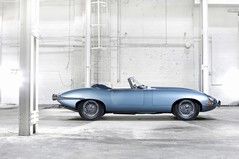 We really don't need much of an excuse to post an image of a Jaguar E-Type here on PH, but Jaguar has kindly given us 50 of them (that's excuses, not images).
It being the 50th anniversary of the E-Type this year, Jaguar is to display around 50 examples of the iconic sports car on Saturday 2nd April in the Jaguar Exhibition Hall at Coventry City's Ricoh Arena stadium.
Apparently, there's some sort of sporting event on that day, but while the game against Watford kicks off at 3pm, you can gawp at the E-Types all the way from 11am until 6.30pm. It's almost worth going to a football match for...