For the customer wanting extra performance from their
. Those after a more extreme fast Astra will most likely be offered an Astra
soon. And when a Ferrari 458 isn't, well, speciale enough, then you know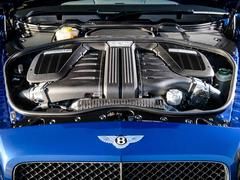 635hp, 607lb ft but only 653mm long
So if you want speed, you buy Speed. The flagship
has been refreshed for the
, now up to 635hp from the twin-turbo W12 and 206mph all out. As the VW Group's new centre of excellence for the W12, Crewe is quite proud of what it has achieved and what the engine is now capable of. Any journalist heard calling said engine a V12 by accident was to return home immediately via Crewe station. Standard class.
Anyway, though it's never been regarded as the most characterful engine in the world, the W12 is an interesting old lump. The staggered bores make it very compact (it just looks huge with all the ancillaries attached) so it's now not far from 1hp per mm (635hp from an engine length of 653mm). Power is up 215hp from the first 420hp (naturally aspirated) VW W12 with CO2 down 20 per cent to 338g/km.
The need for...
On the road, pathetically one dimensional and predictable though it sounds, the sensation of insatiable speed is the overriding one. You brake at the end of slip roads such is the velocity accrued almost by accident. Lifting off simply doesn't do much as the momentum of 2.5 tonnes charges on.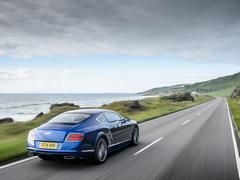 Speed will be up there very soon
The torque peak of 607lb ft is there from 2,000rpm to 5,000 rpm, meaning a torrent of overtaking thrust (and it really is thrust) is always on offer. The eight-speed auto won't kick down unless you really boot it, giving a real sensation of surfing a torque wave as the prow rises and the serenity is just slightly disturbed. You could probably pull a tree stump with the torque...
Overtaking slower traffic is comical. Change down if you must then simply surge past the next target with casual disdain and a muffled bark from behind. The Speed would surely excel in that old road test favourite, the time exposed to danger assessment, as passing vehicles always, always takes less time than predicted. It's quite a feat, and never fails to amaze.
Ready for take-off
But there's only so much that can be gleaned about the performance of a 206mph car on the road. So Bentley did the decent thing, got a long stretch of straight road (the Campbeltown Airport runway) and sent the Speeds down it as fast as they could go.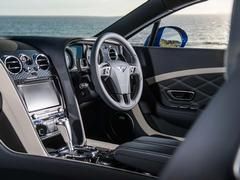 Still a fine place to attempt 200mph
Anyone hoping for a dramatic yarn on eking out every last mph, using 635hp to battle the forces of nature and hitting 200mph, will be disappointed as I only managed 182mph. Sorry. The Speed charges through its first few gears rapidly, the acceleration that proved so addictive on the road not relenting until about 150mph. After then it remains brisk, 160 and then 170mph passing with seemingly plenty of runway remaining. Only of course above 170mph distance is covered at quite a rate. My last glance at the speedo was at 180mph with the Speed feeling imperious and eminently capable of hitting that fastest-Bentley-ever top speed.
Audience participation
So yes, the Bentley GT Speed can do speed exceptionally well. But in its quest for outright performance the fleshy, fallible thing in the massage seat can feel a bit left out. Aloof is perhaps a little harsh and some may indeed argue the Speed's unruffled nature is kind of the point but you can't help but crave a little more excitement sometimes. For all Bentley's talk of a lower ride height, more negative camber and stiffer springs the GT Speed remains a car for covering ground and marvelling at its ability rather than falling for its charms. Accelerate and smile, brake and marvel at the ceramic brakes' power (420mm front discs!), turn, accelerate and smile again.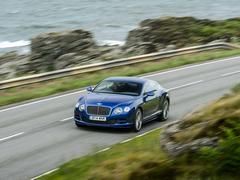 Big Scottish roads played to Speed's strengths
Astonishingly powerful though it is, the W12 engine does contribute to that overall impression. The noise just isn't that exciting, something that not only its rivals excel at but its cheaper V8 S counterpart does too.
Maybe any criticisms of a slightly unengaging dynamic repertoire are redundant given how comprehensively the GT Speed nails its going really fast brief. In a straight line, around corners, slowing down, the Speed is quick. Very quick. For some that and its flagship status will be enough but from a PH perspective the V8 S is probably the more appealing Conti GT, at least until the GT3-R is around.

---
BENTLEY CONTINENTAL GT SPEED (15MY)
Engine: 5,998cc, W12, twin-turbocharged
Transmission: 8-speed ZF automatic, four-wheel drive
Power (hp): 635@6,000rpm
Torque (lb ft): 607@2,000-5,000rpm
0-62mph: 4.2 sec
Top speed: 206mph
Weight: 2,320kg
MPG: 19.5 (NEDC combined)
CO2: 338g/km
Price: £156,700