The mid-life facelift. Such an easy task in principle and yet one that has caught out even the best. The simple aim is to address the flaws of the original while retaining the features that made it a success, assuming it was a car of merit in the first place, of course.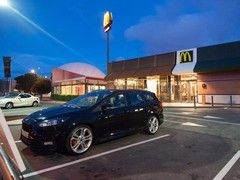 What's a road trip without a drive-thru?
was a car ripe for a successful facelift, update, revision, overhaul or whatever you wish to call it. There was an awful lot to like about the first
: engaging, playful dynamics, a brawny 2.0-litre turbo, estate practicality if you fancied plus an appealingly low entry price.
However, there were a few things that detracted from the overall package. It was hardly the prettiest hatch around, the infotainment system was unfathomable and it did like to torque steer. We're all for a bit of involvement but occasionally the old ST could feel a little wayward and unruly.
Hold on tight
Despite this, we were big fans of our ST wagon long-termer at PH and keen to see if the facelift had improved the car further. Ergo when the offer from Ford came to drive a car back from the Barcelona launch there was no hesitation in accepting.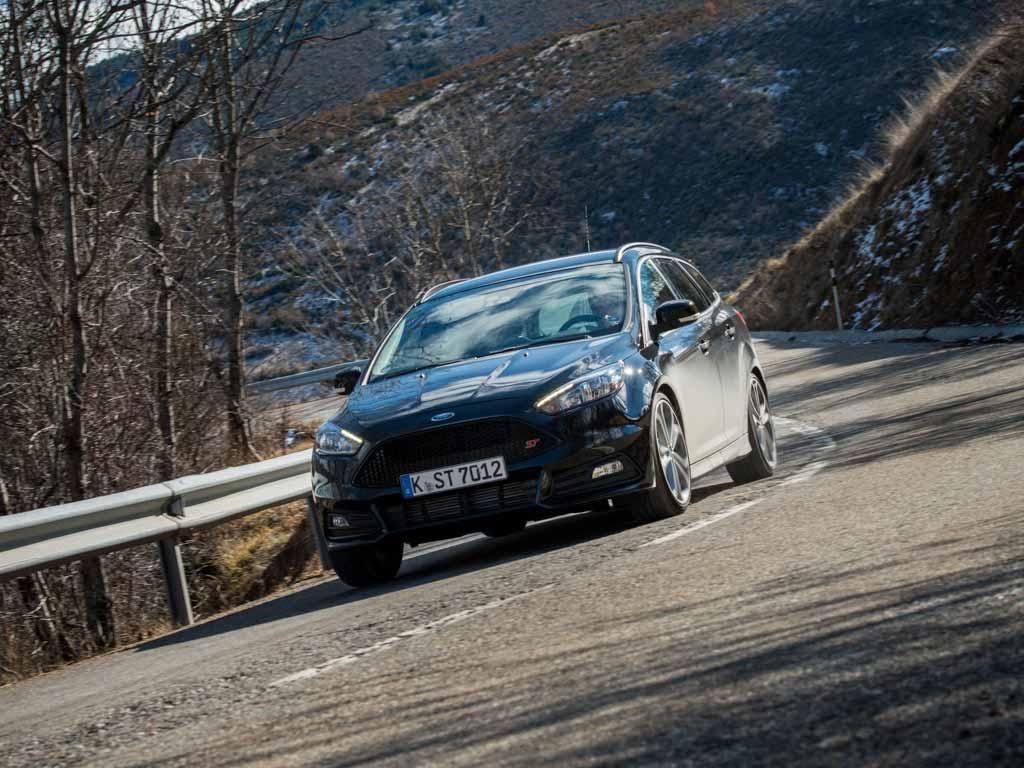 "Do you need another pass? Oh good"
The plan was simple, as the best ones always are. Photographer Tom and I would fly out on Friday, set off very early on Saturday to explore northern Spain, stay in Millau Saturday night and slog up the autoroute on Sunday. The reality was, er, nearly there.
Turns out Tom is not a morning person. Really not a morning person. When the first McDonald's wasn't open on Saturday the situation looked bleak. When he started playing The XX's Coexist soon after we entered a whole new abyss of melancholy. Mercifully another set of golden arches loomed a few kilometres later. Never have McMuffins and Tropicanas been so gleefully consumed.
With the day now looking figuratively and literally brighter, we could begin to focus (apologies, it had to feature once) on the car. And, tedious concern though it may be, the interior is a million times better than the last ST. Gone are the fiddly buttons and tiny screen, replaced by an eight-inch touchscreen with clear displays and far simpler menu navigation. It's still not the most responsive and some of the graphics are a little basic but it's a vast improvement. And you will never, ever tire of the Sync woman attempting to pronounce foreign place names.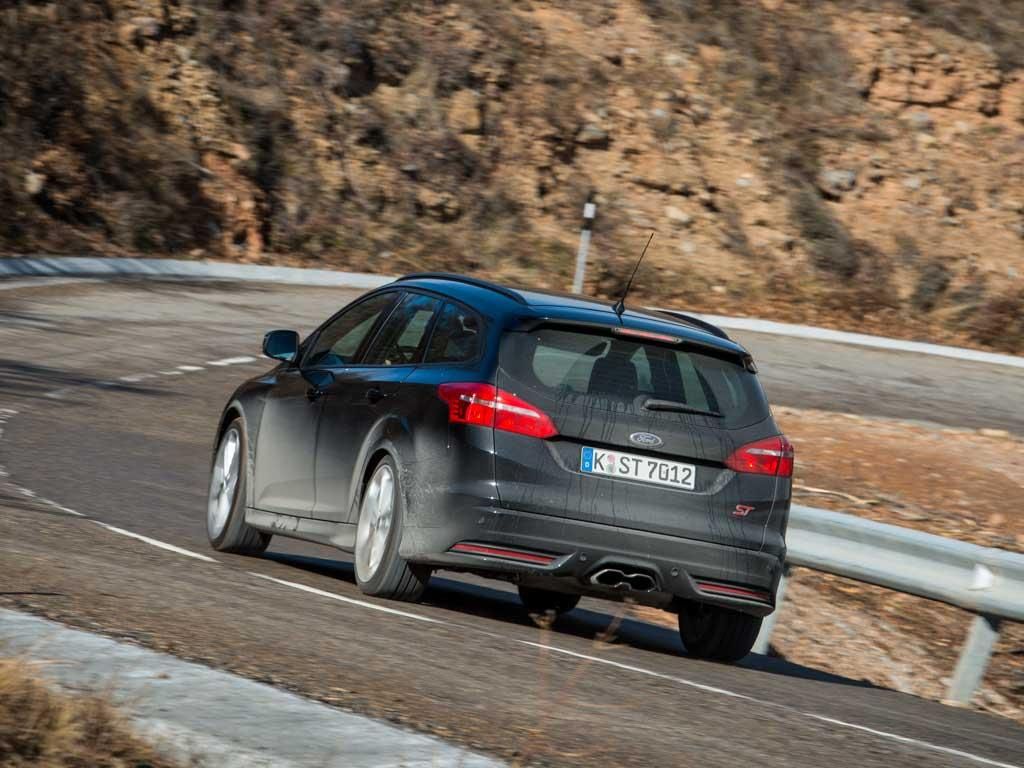 ST was good out here, now even better
Ford has made big claims about the improvements to the ST's handling, boasting of "an even sharper dynamic performance" thanks to new front springs and engine mounts plus tweaks to the torque vectoring and steering amongst others. And you know what? It really has worked. Up in the mountains of northern Spain the ST is absolutely superb. It remains a nine-tenths car, the absolute limit still marked by an inside wheel flaring up and a slight sense of raggedness. But then the RS can fill that void, and the ST is so entertaining, assured and quick up to its limits that the lack of Renaultsport-style balls-out reward becomes unimportant.
There remains some fight from the front wheels exiting slow corners, but it would be unreasonable to expect less given there's 250lb ft and 250hp going through them. Furthermore, the ST no longer feels overawed by those outputs, finding remarkable traction and retaining great composure where experience of the old car would suggest it shouldn't. The brakes are strong even when they get a bit smoky, the engine still torquey and responsive, the suspension striking an excellent compromise between comfort and control. And there's not a single damn thing to configure, which makes a pleasant change. It's brilliant fun actually, a point that becomes patently obvious when I realise Tom hasn't said anything for about 20 minutes. Sorry mate. Vid is good at least.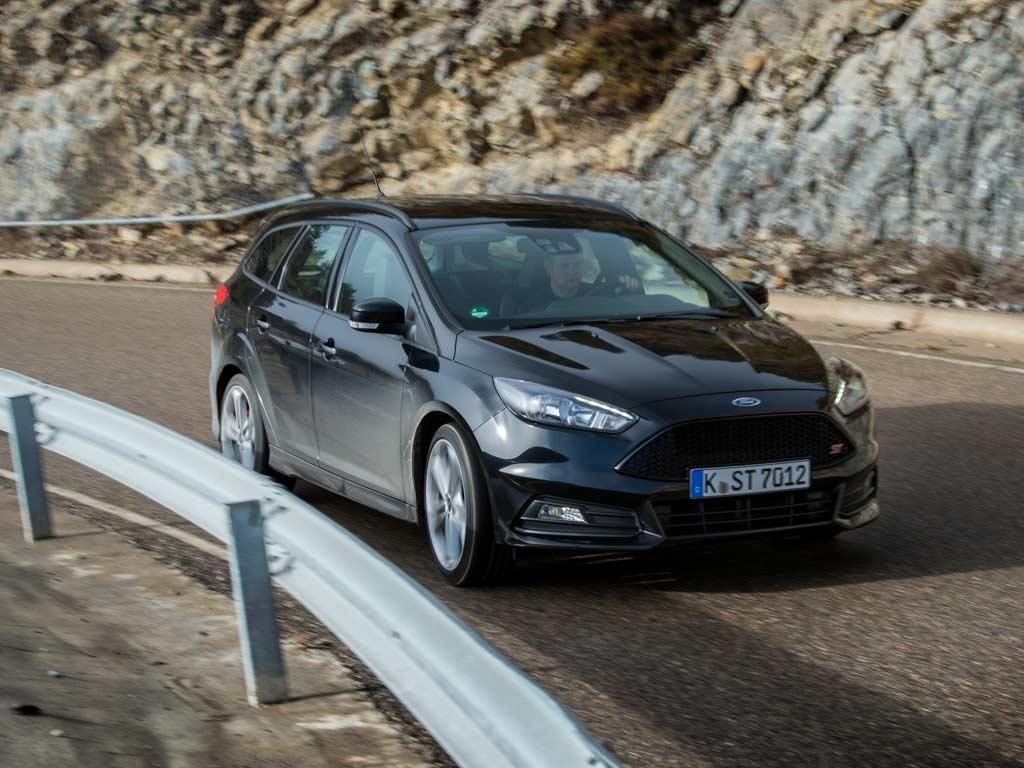 Deserted Spanish roads a real treat
Ford's revisions to the electric power steering are well done too. The previous car had a very sharp turn in which could feel unnatural but the ST's front end and wheel now has a far more consistent response, giving real confidence particularly just off-centre. Moreover, winding left and right through hairpins reveals none of the gloopiness often found in EPAS systems. It's a really, really good set-up, perhaps only wanting for a touch more weight.
We (alright, me) enjoyed much of Saturday marvelling at the scenery and pretending to be Carlos Sainz up in the hills. So much time was spent chasing the rev limiter, blipping downshifts and generally having a lot of fun that we only reached the border at five in the afternoon. Millau was still four hours away. Erk.
This is where the journey began going downhill somewhat. Tom selflessly took much of the autoroute slog, then about 45 minutes from Millau it began to snow. Properly, can't-really-see-and-don't-want-to-drive sort of snow. The autoroutes hadn't been gritted and progress into Millau was exceptionally slow, by which time the snow had thankfully eased slightly. Then we got lost. Many thanks for the wrong address, to remain unnamed hotel booking website. Tom was getting grumpy having not found a burger at a service station. I was rather grumpy knowing we still had 900km to Calais. The hotel receptionist was probably quite grumpy with my abysmal French after we turned up late.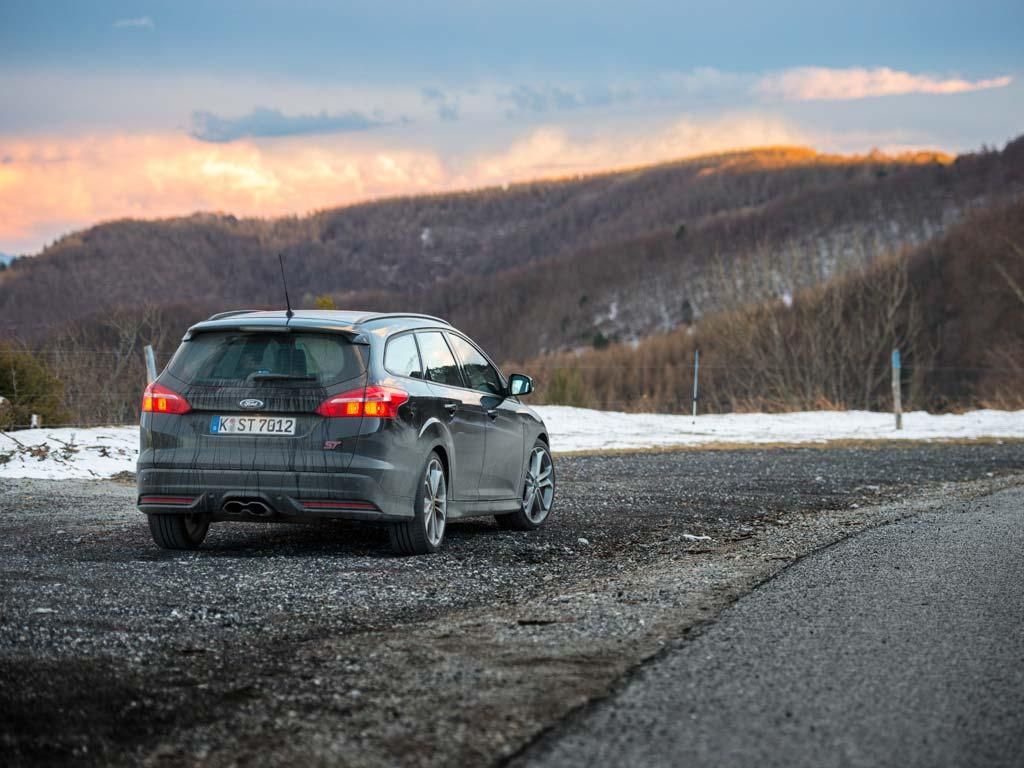 One day finishes on a high...
Still, a good night's sleep and all will be fine, right? Erm, no, actually. The reason for staying at Millau was to take a sunrise pic at the viaduct. Sunday dawned so bleak that it wasn't even visible by the time we reached it. Knackers. Snow had made some of the minor roads really treacherous too. But the autoroutes would surely be fine...
Slush puppy
Turns out 235-section Michelin Pilot Sport 3s don't really like slushy tarmac. Quelle surprise. The Focus was a solemn place for much of Sunday morning to about Clermont-Ferrand, speed very slow and concentration high. Tom was so tense he didn't even put The XX on. Thankfully a snowy autoroute eventually became just a very wet one and we could maintain a more normal cruising speed. Suffice to say it will be a little while before Tom and I speak to each other about that Sunday morning again.
Panic over and the ST is a really nice place to while away hundreds of kilometres, chatting fantasy garages and drinking Fanta Limon (it's still really good). The driver's seat is still a little too high but the Recaros are fabulous. Previously they seemed to lack a little lumbar support but I couldn't fault them over 25 hours and 1,200 miles. The ride gave no cause for complaint either; firm yes, but a long way from its Fiesta brother and entirely liveable. The larger, sharper screen provided accurate ETAs and reliable directions, not always a given with the previous system.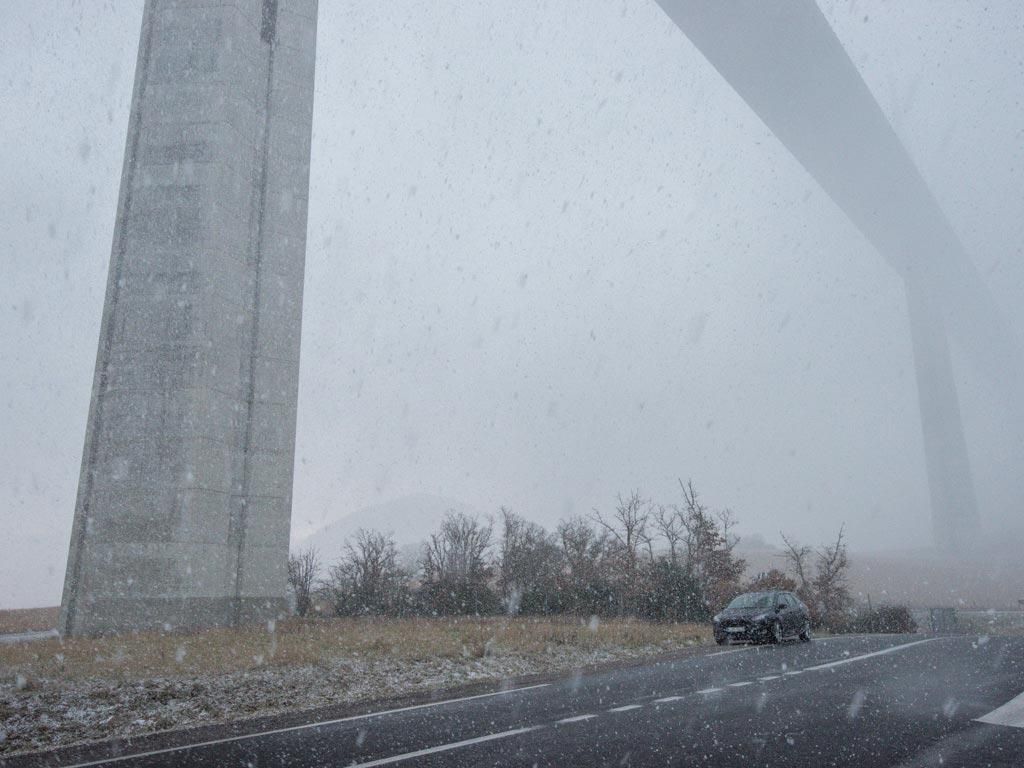 ... the next dawns bleak!
To these eyes the ST facelift is a successful one outside as well. Without such a gaping grille the front is much better, I like the new wheel options the rear seems slightly less dumpy with a couple of tweaks to the lights. An improvement then, but will buyers deem it sufficiently attractive compared to the
Following the drama of Sunday morning, the rest of the journey passed without issue. We made it back to Britain just after 1830h and Tom was home in time to watch Top Gear. Having momentarily been perplexed by a LHD car in Britain I get home and collapse into bed.
And the car? I think it's easier to look at what the Focus ST doesn't do so well such is its broad range of ability and appeal. And, well, there isn't a lot. The gearshift still isn't the snappiest, quite long in throw and across the gate. It isn't bad by any stretch though, and the feeling will be improved being sat on the right. As mentioned, the infotainment could be a little more intuitive and for me there are few too many buttons on the wheel. Tom reckoned the interior was overly plasticky but he's a perfectionist. Photographer's prerogative apparently.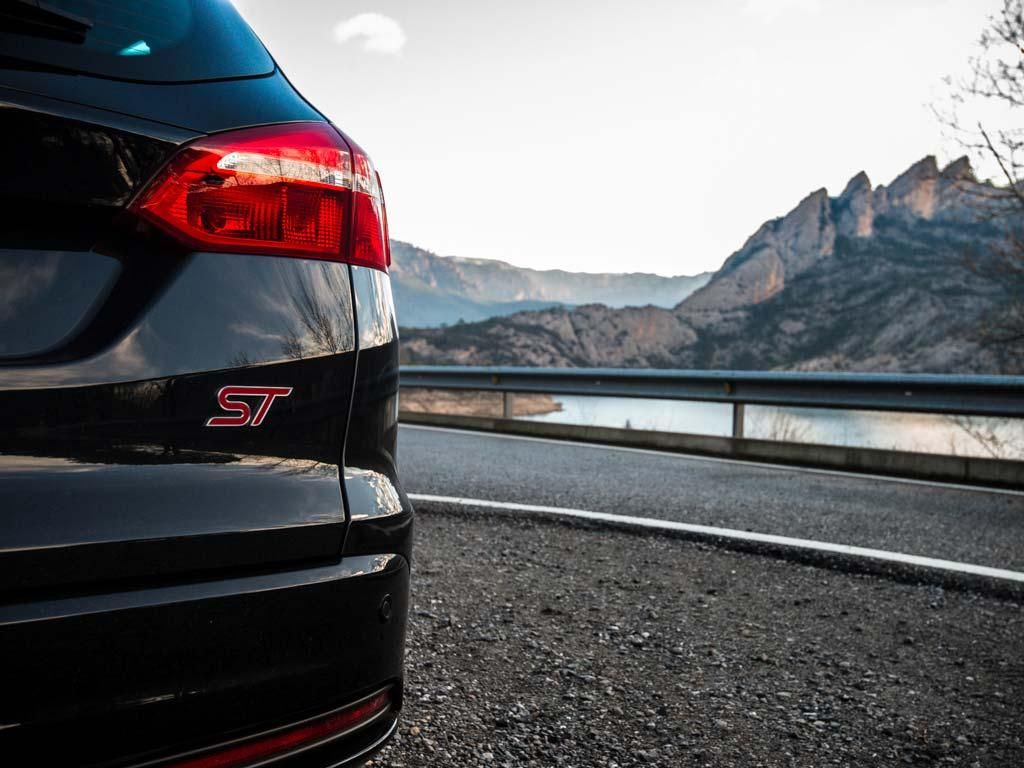 As facelifts go it's a very good one
So yes, it's an excellent car the Focus ST and one that's wholeheartedly recommended if you're after a hot hatch or estate. Interestingly SEAT doesn't think of the Ford as a rival to its new Leon ST Cupra 280, citing additional power and more equipment. It will have to be one heck of a car to beat the Ford though. Appropriately enough the launch is very soon. In Barcelona. Fingers crossed for sunshine...
Quick GoPro vid here(apologies for the sound quality!)
---
FORD FOCUS ST
Engine: 2,000cc 4-cyl direct injection turbocharged
Transmission: 6-speed manual, front-wheel drive
Power (hp): 250@5,500rpm
Torque (lb ft): 250@1,750rpm
0-62mph: 6.5 sec
Top speed: 154mph
Weight: 1,362kg
MPG: 41.5mpg (NEDC combined)
CO2: 159g/km
Price: £21,995 (ST-2 £23,695, ST-3 £25,995, estate +£1,100 on all)