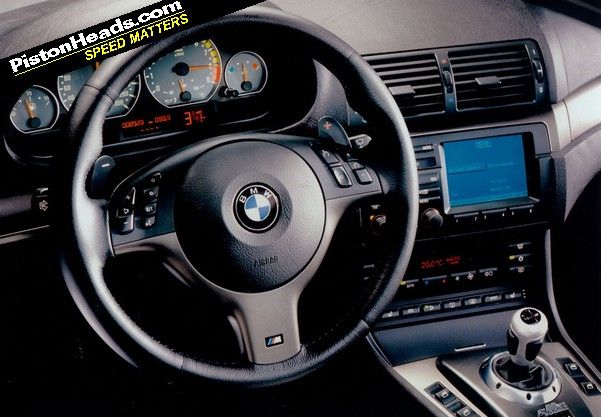 The M Design seats of the standard M3 are trimmed in Nappa leather that needs regular cleaning and leather food to keep in tip-top conditioning. Cracked leather is not uncommon, while the driver's side right-hand bolster also becomes crushed over time. The steering wheel is unique to the M3, as are the instrument binnacle's grey-faced dials that include a rev counter with orange segments that go out as the engine warms through to indicate the safe rev limit. The speedo reads up to 180mph.
A lot of M3s will have a television and satellite navigation fitted. The sat-nav will need an up to date CD to give accurate information, while the television may struggle with today's digital signals. While looking at the centre console, make sure the air conditioning works properly. You should also press every button to be certain all of the electrics function properly, including the illuminated M gear knob for the manual gearbox.
The CSL's cabin varies quite a lot from the standard M3s as it ditches the electrically adjusted front seats in favour of deeper bucket-style sports seats trimmed in Anthracite Reflex cloth and Amaretta synthetic suede. These seats do without the side airbags of standard M3 models. In the back, two individual seats are trimmed in the same cloth as the front pews, while the steering wheel is finished in Alcantara and has the button for the M Track mode where you'd normally expect the stereo controls.
Going further, the CSL also has lightweight door trims and a centre console made of lightweight composite material. BMW did away with satellite navigation, any stereo or CD, air conditioning, sunroof or electric seat adjustment for the CSL to save weight. Buyers could order air conditioning as an option.
On all M3s, the interior door handles have been know to come loose and fall to pieces, though this should have been sorted under warranty by now. The rear view mirror's light reactive fluid can leak inside the mirror which will be obvious at a glance. It's expensive to replace from BMW, so worth checking. Also make sure the door seals fit and sit snugly to keep out wind and noise.

---
Owner's view:
"Thankfully swerving the Chris Bangle 'Flame Surfacing' this is still one of the best looking BMWs ever made, and its aged very well. Build quality, fit and finish is BMW standard, with all the M cars benefiting from good quality leather, plastics, and instrumentation. A driver's car built around the driver."
Ben Hayes

---
Buying Guide contents
Introduction
Powertrain
Rolling Chassis
Body
Interior
Search E46 M3s in the PH classifieds now