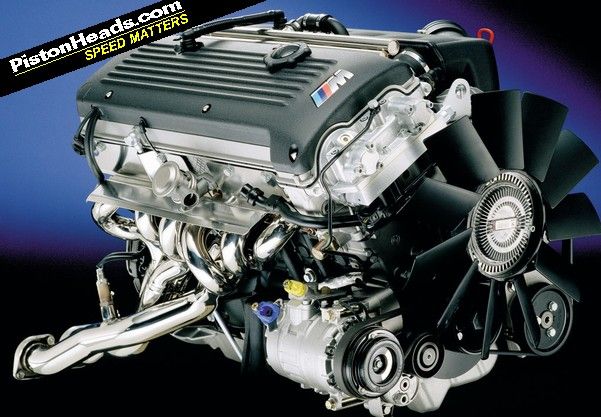 The 3,246cc S54 six-cylinder engine used in the E46 M3 has an iron block with 87x91mm bore and stroke. Compared the previous E36 M3, the E46 model gained new camshafts and an increased compression ratio, rising to 11.5:1 from 11.3:1. There was also a new Siemens-developed engine management control system, fly-by-wire throttle and two-mode M Dynamic Driving Control that offered Normal and Sport modes to alter throttle response.
BMW also introduced new finger-type rocker arms to reduce friction in the engine, as well as lowering reciprocating mass in an engine that could rev to 8,000rpm. A one-piece aluminium cylinder head contained the 24 valves, while a new scavenging oil pump kept them lubricated during hard cornering.
The result of all this work was 343hp in a normally aspirated engine, which was the most powerful engine per litre BMW had then produced other than the McLaren F1's 6.1-litre V12 motor. Coupled to this is a six-speed Getrag manual gearbox that could be bought in either standard form with a clutch pedal or SMG (sequential manual gearbox) that did away with the clutch pedal in favour of paddle shifters and a gear lever that could be nudged forwards and back to change gear. In the SMG II 'box, the clutch is actuated by BMW's electrohydraulic Drivelogic system that offers 11 different modes and a Launch Control.
Both transmissions have identical ratios and the same internal components, and both send power to the back wheels through an M Variable Differential Lock limited-slip differential. To further help the M3 control its power, BMW fitted Dynamic Stability Control as standard.
The M3 CSL only came with the SMG gearbox, which is the same as the standard M3's. However, the DSC was modified to offer an M Track Mode that allowed the rear of the car to oversteer more before intervening. To increase the CSL's power by 17hp to 360hp, BMW added a carbon fibre air box that lets in more air and gives a louder intake noise. The VANOS variable valve timing was altered and a lightweight exhaust manifold with thinner, straighter tubing was also added.
Most CSLs have led a pampered life in the hands of dedicated enthusiasts as it's not as easy a car to live with as a standard M3. However, all of the same checks for the M3 Coupe apply to the CSL, so first port of call should be the service record to make sure the original running-in service was carried out at 1,200 miles, This included an oil change that has proved essential to the M3's long-term health.
The SMG's hydraulic fluid pump can fail, leading to the gearbox dropping into neutral. Replacing the pump is costly, but this can also be misdiagnosed when the relay is failing and a new relay is easy and cheap to replace.
Clutches wear more quickly in SMG-equipped M3s, particularly those that spend more time in town. Judder from the clutch as drive is taken up in the lower gears is a clear sign it will need replacing. However, BMW also offers a software update that should have been added to any SMG M3 to reduce clutch judder.
As for the engine itself, it's a tough unit. Some early cars suffered crank bearing failures, but all of these affected cars should have been repaired under warranty or had the engine replaced by BMW. The fault seemed to rear its head at around 30,000 miles, so any very low mileage early M3 should have its history file carefully inspected.
The double VANOS variable valve timing is more robust on the E46 M3 than it was on the E36 version. However, the VANOS bolts can loosen at around 70,000 miles. If they break, it can ruin the engine, but stronger replacement bolts are available from BMW.
A noisy rear differential is nothing to worry about if it makes a little grumble when turning tightly at low speeds. A change with the correct Castrol oil will help, but this is a common characteristic of the M3.
Alternators and coil packs have been known to fail, but both are straightforward to fix and the competent home mechanic can tackle either problem to keep costs moderate.

---
PHer's view:
"It's been a good car. The only issues I have had are two coil packs went after a trip to the 'ring. Fixed it myself for less then £100, and I also had a battery failure which knackered the sat-nav. I re-flashed it myself with new firmware."
Mark Clifford

---
Buying Guide contents
Introduction
Powertrain
Rolling Chassis
Body
Interior
Search for E46 M3s in the PH classifieds