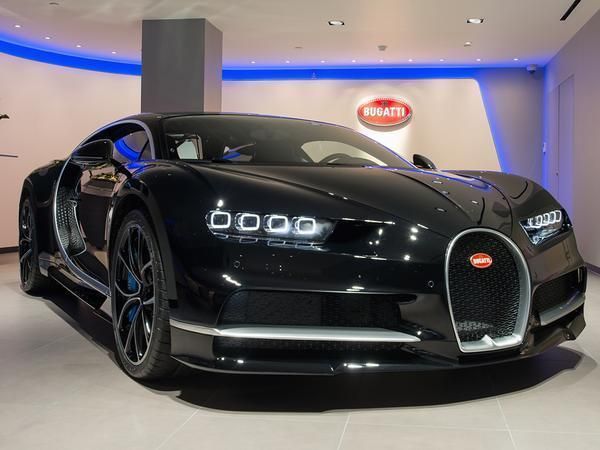 Turning the corner from Berkeley Square into Bruton Street, it would have been easy to miss the slightly innocuous addition to the road's collection of opulent designer boutiques and exclusive eateries. Easy that is, were it not for the Veyron Super Sport parked by the kerb outside. Welcome to the new home of Bugatti in the UK.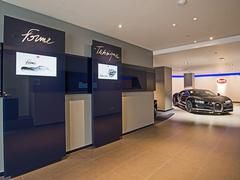 Let's call it a boutique, shall we?
Despite there being around 65 Veyrons currently owned by UK residents, Bugatti hasn't seen fit to grace our shores with a dedicated showroom until now; previously potential customers would have had to slum it with the commoners in the Bentley showroom next door. That's all changed now though, with H.R. Owen Bugatti being given blessing to create a space exclusively devoted to the French luxury brand in the heart of one of London's most upmarket boroughs.
Upon entering the building, prospective customers pass a series of art installations and sculptures which illustrate the brand's history and values before entering the showroom itself. Lit with Bugatti blue accents and furnished with items from the French marque's recently launched Home Collection, including chairs crafted from blue carbon fibre and white leather, it's a painfully stylish if not especially comfortable space. There is room only for one car, although with that car being the new £2m, 1,500hp Chiron, that's arguably all you really need. Bugatti say it "delivers the perfect environment in which to view the new Bugatti and discuss personalisation options with the factory trained team. It allows customers a private and secluded buying experience, out of view from the outside world." Because owning a Bugatti is all about subtlety!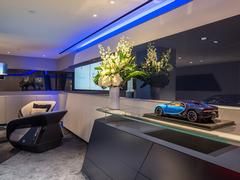 Half of UK pre-orders are new to Bugatti
Speaking at the opening on Tuesday, Dr Stefan Brungs, Bugatti's Director of Sales, Marketing and Customer Service told the assembled press that Bugatti has now sold 40 per cent of the Chirons currently planned for production, 15 of which are destined for the UK. Interestingly he claims that around half of all pre-orders have gone to customers who have never previously owned a Veyron, this despite there of course being no opportunities for a test drive.
He went on to announce that "London is one of the most important locations for Bugatti worldwide. Many of our current customers love this city and have a residence here. The launch of H.R. Owen Bugatti means that we are now able to serve our exclusive clientele in a perfect setting. With the expert and experienced team at H.R. Owen, we know that customers in London and from the rest of the UK will be wonderfully looked after right from the very start of their ownership experience."