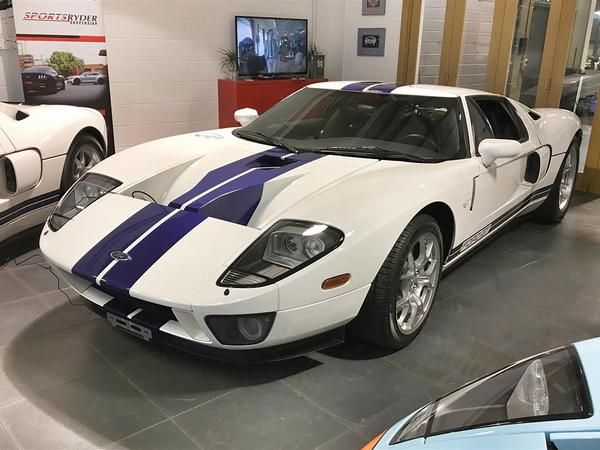 The new Ford GT was revealed 50 years after the GT40 snatched a 1-2-3 at Le Mans. It also came with a very odd reservation procedure. What should have been a simple phone call to your preferred Ford dealer ended up in a long-winded online buyer's interrogation.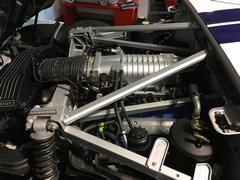 V6? Nah bruh, all-American V8!
As revealed in a
story on Road&Track
it involved questions on how the prospective buyer is related to the Ford brand, whether previous GT products have been owned, 'your' GT's intended use (charitable causes, on-track and so on), a synopsis of the most significant cars in your collection (preferably including Fords or Lincolns) and how influential you are on social media. To the point you were even invited to share a link to an X-Factor style audition reel viewable on a public link on YouTube or similar to demonstrate "why you would be a good GT owner".
But don't fret; this 2005 Centennial White Ford GT could be your answer to GT ownership, the more straightforward criteria for purchase being £269,000 down the back of the sofa. A 5.4-litre supercharged V8 with 558hp and 500lb ft will propel you to 62mph in 3.9 seconds and keep pushing to its top speed of 205mph with no help from any electric motors. It might not have the same racing success that its predecessor and successor may have but in no way does it make it any less of a machine. Only 4,038 were built out of the planned 4,500 over the two years. 503 of the 2005's 2,027 built were Centennial white making this one of the more common colours.
This model has the optional blue racing stripes, optional forged BBS alloys and the premium audio system. You won't need that though as the previous owner has fitted an Accufab exhaust to let that supercharged V8 bellow and a gearbox breather system to avoid oil misting on the gearbox.
With prices of the new GT said to start at $450,000, the £269,000 asking price looks like a relative bargain, especially since prices of these have been holding strong. You could buy the GT and either a Cayman GT4 or an AMG GT S for everyday with the change.
2005 FORD GT
Engine: 5,410cc, supercharged V8
Transmission: six-speed manual, rear-wheel drive
Power (hp): 550@6,500rpm
Torque (lb ft): 500@3,750rpm
MPG: N/A
CO2: N/A
First registered: 2005
Recorded mileage: 2,815 miles
Price new: $150,000 (2005)
Yours for: £269,000
See the original advert here
[Sources: Road & Track,SAAC registry forum]