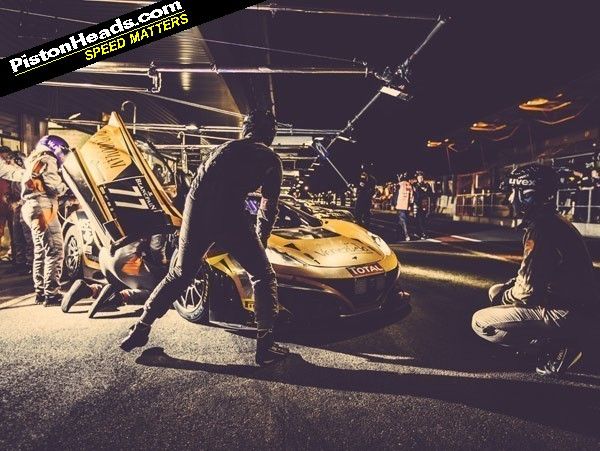 The
24 Hours of Spa
might not quite have the stature of its equivalents at Le Mans or the Nurburgring but, hey, it's at Spa and endurance races have been running here since 1924. And the Belgians know how to party. So Matt's accepted an invitation from McLaren to join them for the race. And we sent him along ... in a Volvo. It's Polestar Blue T5 though and, true to the diverse traditions of the race, Volvo has history here too with cool looking, BBS-shod 240 coupes in the hands of Anders Olofsson, Johnny Cecotto and Mauro Baldi competing here in the 80s.
Keep tabs on Matt's progress here and on his Twitter feed (@PHMattB) as the event goes on.
Latest update: Sunday, 1030h, Spa-Francorchamps media centre

---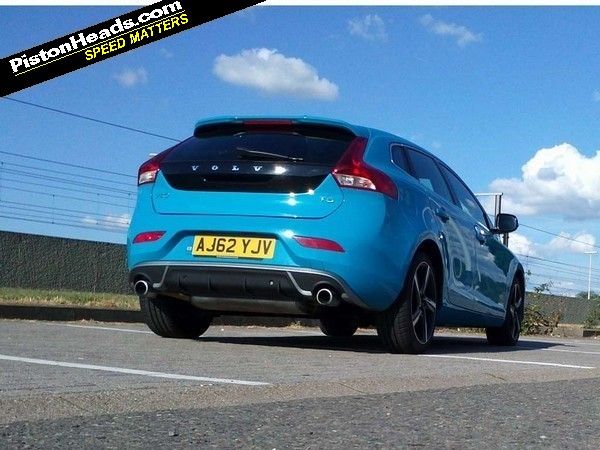 Friday, 0000h, McLaren's Hotel in Liege
So this was all set to be a simple blog entry about my first overseas driving experience on the way to the Spa 24-Hour with McLaren. A few words on the weekend ahead, some initial impressions of the car and any interesting stories along the way. But that was before I had dinner with Bruno Senna...
And when I say 'with', he was sat opposite in a group of seven, so there was plenty of opportunity for conversation. And you know what? He's a proper petrolhead, and really easy to get along with. His current daily driver is a VW Polo GTI that he plans to have tweaked by APR Motorsport to around 300hp with commensurate upgrades to the suspension, brakes etc. He's a big fan of the DSG gearbox out of the box though.
For tomorrow's race, Senna's 12C GT3 (his team also includes McLaren chief test driver Chris Goodwin) starts from 27th in a field of 65. He explained that whilst some sectors were at a top ten pace, traffic is the biggest obstacle to a decent qualifying lap. And apparently race day involves 'too much time ****ing around'. As if to prove the point, he left dinner early ahead of a 9-05 practice session tomorrow (the race doesn't start until 4-30pm!).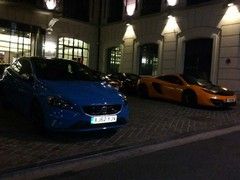 Grainy pic of hot Swede at McLaren's hotel...
My car for the weekend is a Rebel Blue Volvo V40 T5; you won't be surprised to discover it was a near-perfect partner for today's 375 motorway miles. The auto 'box can seem a bit jerky at times, but it will allow for sixth gear to pull through overtakes without kicking down if you're careful. Manual mode is useless though; the gearlever setting are the wrong way round, it changes gear at the redline automatically and will kickdown with sufficient throttle application too.
But the stereo's marvellous, the LCD displays are cool and, whilst it's rather muted, the 254hp 2.5-litre turbo provides more than enough performance. Well it did, right up until the convoy home from dinner with a pair of McLaren 12Cs... Fortunately, my power disadvantage (371hp to be exact) was taken into account and progress was fairly sedate back to the hotel. Still damn fun though.
We'll leave Liege at about 9-30 in the morning and head to the circuit; I can't wait to see what the 2013 Spa 24-Hour has in store!

---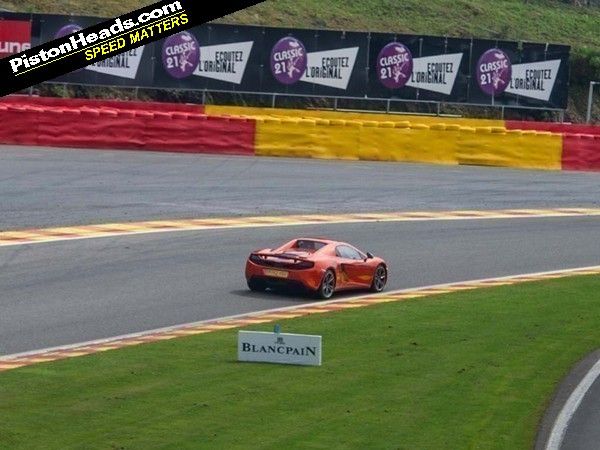 Saturday, 1500h, Spa-Francorchamps media centre
Apologies for the delay in updating! Once again, what was going to be a minor update now includes a much more interesting event. Significantly more interesting, in fact.
Following a media accreditation/parking SNAFU, we arrived at the circuit just after 11am Belgian time. Laptop fired up, I was just about to post a few words on the rain (there's already been two thunderstorms) and what else was coming up today. Then one of the guys from McLaren came over and said: "The supercar parade is about to start out on the circuit; we've got a helmet ready, do you fancy it?"
Oh yes please.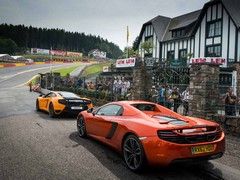 First laps of Spa for passenger and driver!
A supercar parade around Spa-Francorchamps implied a sedate few laps of the circuit, waving to fans and maybe extending the car at the faster parts of the circuit. How wrong that prediction was! It was effectively a 45-minute track day, with plenty of contemporary supercars (XKR-S, R8, Gallardo Superleggera) fighting for track position with classic 911s, Mustangs, a Countach 5000S and a beautiful mint green Pantera. It was truly a surreal, spectacular and wonderful experience.
The car was a 12C Spider, McLaren's development car that has been used since November and currently has 26,000 (!) miles on it. My driver was Haydn Baker, McLaren's Head of Series Development , a man who had never driven a lap of Spa in his life before today. Should be fun then...
Haydn predictably took it fairly easy to start, but many of Spa's corners would be spectacular at walking pace. Eau Rouge is terrifying, the track really dropping away before the climb and forcing you down into the seat. As it rises, Raidillion can't be seen until the car is on top of it, the view only tree tops and sky.
Through Rivage and into Pouhon, the track drops away as the horizon is filled with the Ardennes forest. Stavelot 2 became notable on a few of our laps as more cars joined the parade from there, just to make Blanchimont slightly more intimidating...
Haydn and I did 10 laps, averaged 4.2mpg and received a 'hot engine temperature coolant' warning. The car? Well, the view of an expert (okay, Chris Harris) on the 12C Spider can be viewed here but, as a passenger, it just felt like a beautifully honed and stunningly capable driver's car. That 3.8-litre twin-turbo V8 just has power everywhere, and hauls with real conviction to 8,500rpm. Down into La Source, the SSG gearbox happily allows downshifts with the car pulling more than 7,000rpm in the lower gear. And the carbon-ceramic brakes felt mighty (and rarely troubled) for the entire session. Phenomenal car.
Hopefully the next update can be briefer!

---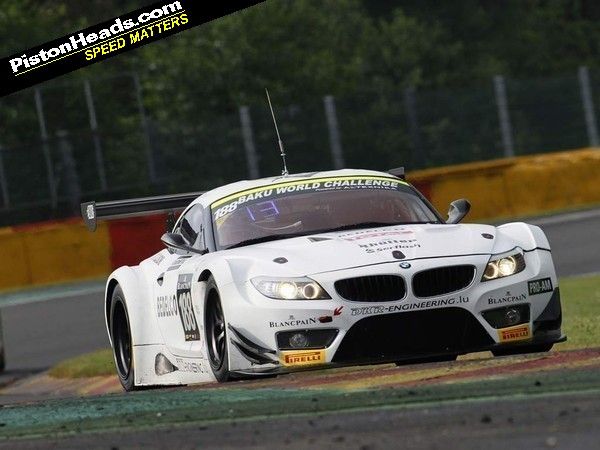 Saturday, 1700h, Spa-Francorchamps media centre
And the 24 Hours of Spa is go! Somehow, all 65 cars made it through the start (three spun and rejoined) which leaves an enthralling race in prospect. (ETA: we've lost a GT-R as I've been writing. Down to 64).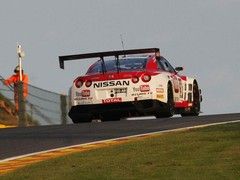 Media photos much better than ours!
Watching the start from the paddock overlooking Eau Rouge proved a great idea. With full fuel tanks, most of the cars bottom out twice as they flick left and then climb right, with wisps of tyre smoke as rubber meets bodywork. There's even a few sparks from some; it's amazing to witness.
And the noise. I don't care if every EV race includes 150 overtaking manoeuvres, motorsport's appeal will be dented without combustion engines. Here the 911s wail, the 458s scream, the V10 R8s blare and the SLSs rumble their way round the lap, adding so much to the spectacle. Hopefully there'll be a few flames at some point also...
Come to think of it, I should be out there enjoying it rather than looking at screens; next report in a couple of hours!
Photography: Blancpain Endurance Series

---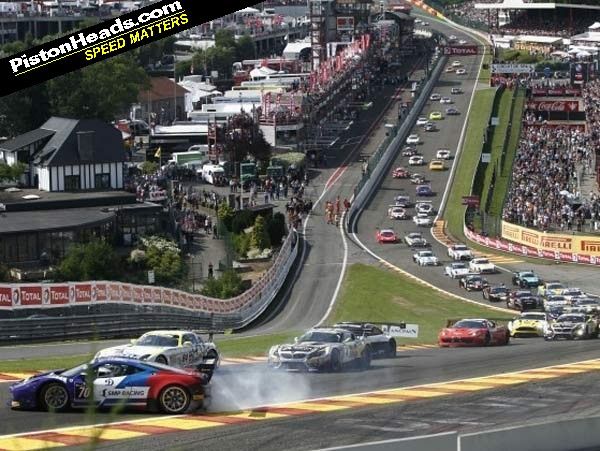 Saturday, 2100h, Spa-Francorchamps media centre
Another delay, this time as I just couldn't drag myself from the circuit! Some of the viewing areas around Spa really are breathtaking, and takes some time to get around too.
I started high on the banks at Pouhon, allowing an unspoilt view from the exit of Rivage plus both apexes of what appears a very ballsy corner. With blazing sunshine, the Ardennes forest on the horizon and a delicious cone of frites for sustenance, it was an incredible way to experience motorsport.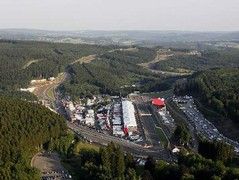 Well, it's a good way to walk off les frites!
At the exit of Stavelot, the fencing runs within a few metres of the track, the proximity making it a really intense watch. There's a buzz as the cars take some kerb on the exit and then a barrage of noise as a field of flat sixes, V8s and V10s storm their way out round the back of the circuit.
I've just spent some time at the Bus Stop chicane also. The highlight here is hearing the drivers execute multiple downshifts as late as possible, hauling themselves down from big speeds pretty damn quick. An R8 sounds particularly special here as the V10 emits a huge 'bwaaaarp!' on each downshift.
Just a final note on the atmosphere at Spa too; it's like a huge motorsport carnival, campers cooking on a BBQ and enjoying some beers whilst watching fantastic GT3 racing. It's an accessible, inclusive event, and one that I'm disappointed not to have experienced sooner. Can't wait for the sunset now!

---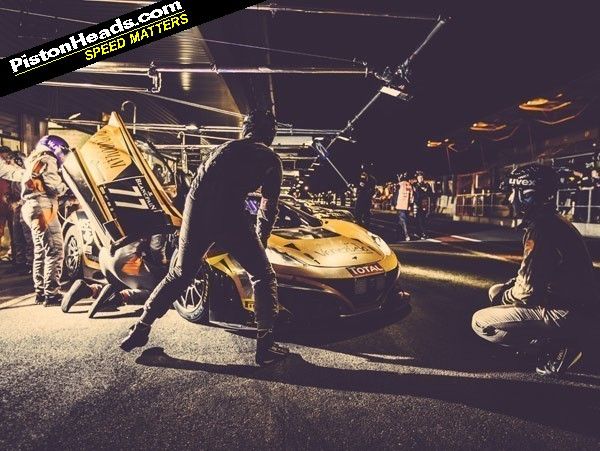 Saturday, 0000h, Spa-Francorchamps media centre
So if the 24 Hours of Spa felt like a carnival of motorsport in the early evening, it becomes a fully-blown party on nightfall. It isn't dissimilar to a European holiday resort as midnight approaches; the funfair is loud and vibrant, even more beers are being drunk, people are happy and the whole revelry is set against this mesmerising race.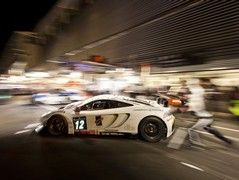 A long night begins for the pit crews
With less to see, your other senses become more alert and receptive. The smells are of fast food on one side of the paddock and racing fluids on the other. In the eerily still air (a storm is on the way reputedly), it's almost as if you can taste them. Moreover, in the darkness, exhausts glow a deep orange and flames spit from side-exit exhausts.
The last period of spectating has been around the pit straight, watching the cars fly out of La Source and plunge down the narrow straight before ascending Eau Rouge, back into the darkness. We'll hopefully get some images of this, as it's yet another bewitching sight proffered by the 24 Hours.
Currently, a Manthey Racing 997 leads the race, followed by two BMW Z4 GT3s. The little Beemers are proper hot rods, all bonnet, arches and V8 muscle.
Right, I'm back to Liege for some kip. See you bright (and maybe early!) tomorrow...
Photography: Blancpain Endurance Series

---
Sunday, 1030h, Spa-Francorchamps media centre
And so, the morning after the night before! Spa is considerably more subdued this morning, with the only sound now being the cars and the crowds far less populous. The media centre remains packed though, now crammed with some rather dishevelled and tired faces.
I was later to the track than planned after a terrifying detour through the forests around Spa on the way home last night; I needed some sleep! So I've had more rest than most of the other hacks here and I'm keen to experience the 24 Hours of Spa for just a couple more hours before trudging home. I'd love to see the finish but, with 350 miles to cover before home, a departure nearer lunchtime is more likely.
Next (and final) update will be back in England where I'll try to leave some concluding thought on this fantastic place and event.