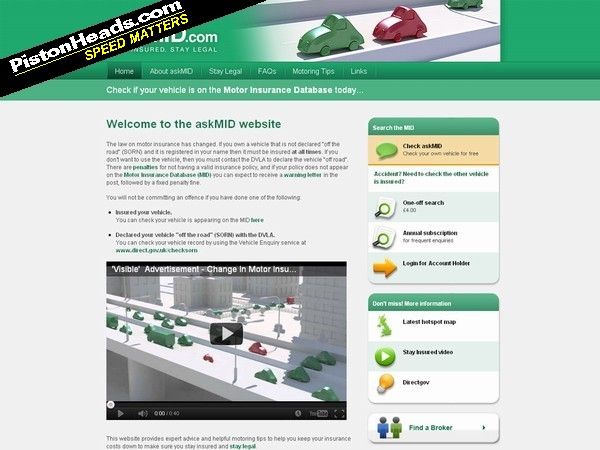 The Passat TDI
recorded an excellent 47mpg on the way to Swansea Magistrates Court this morning.
I had been summoned to answer an accusation of driving whilst uninsured. I went in person because I knew this not to be the case and wanted the chance to present documents that proved as much. In the event, the case was dropped and I walked away with a slightly better understanding of the way the DVLA monitors vehicle insurance.

Sometime last year I received a note in the post saying that a car registered in my name was uninsured. I assumed at the time that a surveillance vehicle had taken a photograph of the car, cross-checked the license plate against the DVLA database and, for whatever reason, found no record of insurance cover. The car was listed on a larger fleet policy.

It turns out no photograph was taken, instead the DVLA now cross-references licensed vehicles on the road and checks the insurance details. I'm assuming it's an automated process.

It turns out that my car wasn't on the database, nor was it a second time when the DVLA checked forcing a summons, but it was there last week when they made one final check, so all's good with the world.

Am I stroppy at being hauled to Swansea? Not at all.

I view this in just the same way I do inconveniently lengthy conversations at border controls. Yes, they take time, but the rigour proves that people are doing their job. And we shouldn't like people who drive uninsured.

So any process that proactively searches for uninsured vehicles is a good thing. If there is a problem, and sadly this will always be the case with these automated processes, it's that there is zero tolerance for anomalous circumstances. It is entirely possible to end up in court having done nothing illegal, purely because of a clerical error. This does seem slightly harsh.

The system also seems heavily weighted towards individual, private owners too. Just as it now appears impossible to tax a car without a cover note that bears the same address as the V5 document, so drivers with valid insurance through fleet schemes and such like could find themselves, like I did, in a spot of bother.

It is also a problem for those who like to SORN classics in winter and aren't too handy with paperwork. You can quickly find yourself receiving lots of threatening letters.

Most at risk is the honest motor trader. Blurring the lines between stock and personal transportation now looks like a risky business, which is a shame because I've always suspected that half the supercars you enjoy seeing in public are actually driven by traders forgoing a bit of profit margin for their love of exotics.

If you want to check whether your car is listed on the Motor Insurance Database, head here.
Chris