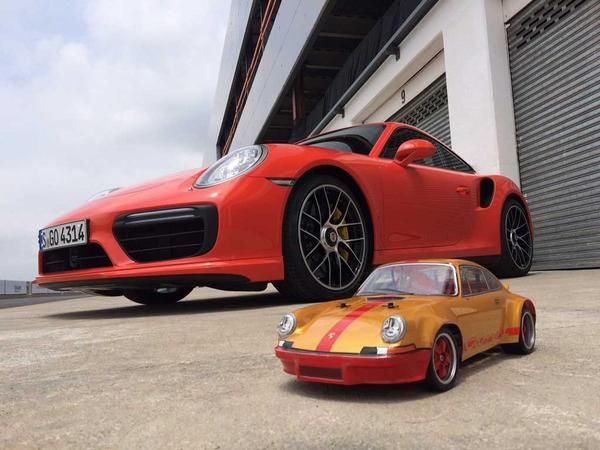 There has been less deliberation in the PH office about twin-test conclusions than there was on the Tamiya remote controlled 911. "I was thinking of a Singer-style look, given it's a 70s Porsche", opined Dan just before Christmas, before continuing on the benefits of two-wheel drive against four, the testing he could carry out and exactly how he could get a smiley on the roof.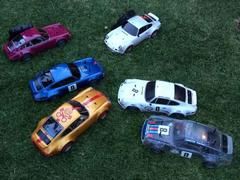 Best looking on the Concours lawn
As you will have hopefully seen, we settled on gold with red and two-wheel drive only. This is PH after all. Then with all engineering and testing done (a Travelodge car park no less), it was entrusted to me to take over to South Africa for the race. And the new Turbo launch, of course.
Is it bad to admit to feeling some pressure? There was a lot riding on this, not least the presence of a load of other motoring mags that PH should beat. So at the Kyalami RC track (alright, the bar at our hotel), the seven cars assembled and we were ready to race...
Mid-week testing had thrown up some, er, distinctive handling traits, namely a propensity to spin on most throttle openings and some proper 911 lift-off oversteer. Our GT2-spec car was challenging to say the least. But a slow and steady start saw me up to second on the first lap, staying out of the shrubbery and away from the sunbeds.
Then the problems started. Having to follow the cars around meant a lot of crashing into both feet and cars. More detrimental to our result though was some driver overconfidence. Feeling like I was on top of our spiky car, I began chasing the throttle earlier out of bends and paid the price. If I wasn't backwards into the plants, I was sideways into the pebbles. Reverse wouldn't engage and my cool racing head was getting flustered. I crashed into the back of Andrew Frankel's 2.7 RS and the dreams of glorious victory were fading fast.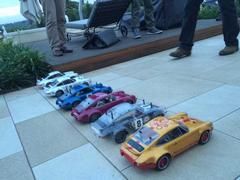 Ready to race!
The technique of jabbing the throttle down the straight and coasting around the bends caught me up a bit, but by this time any hopes of a podium had evaporated. I crossed the line dejected in fourth, the car still looking sublime but sadly let down by substandard driving talent.
Honour couldn't even be restored by the drag race, our weight saving negated by the traction issues. So scared of spinning off the line, I was too careful on the throttle and lost precious lengths. By the time I was at the 20m finish line I was again middle of the order, with none of the cars close to the line they started in.
So I wasn't a very good RC racing driver. Apologies. But what I have learnt is that remote-controlled cars are definitely as much fun as a grown up as they were as a child. Get together with a few mates and I promise it'll be brilliant. Probably more fun than a Carrera 4 cabriolet too...
Matt