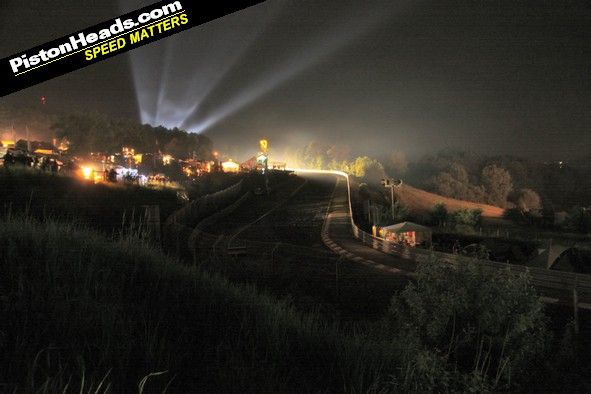 Some tracks are considered to be surrounded by residential areas and civilised tranquility. They have to worry about noise, and about new-build housing estates and their naïve residents complaining about the race cars zipping past their garden.
But the 21km Nurburgring Nordschleife does all the surrounding here. It doesn't just surround us, it envelopes four different villages (Nurburg, Quiddelbach, Herschbroich and Breidscheid) and normally contains about 2500 residents. Right now I'd multiply that figure about 20 times. And double that again for the campers based all around the track.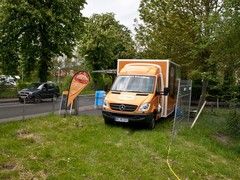 Garden near track? Rent it to a food wagon!
It's the 24-hour race week and the hordes of fans are like an occupying army. If a whole county was taken over this way in Britain there would be marching in the streets from nimbys and OAPs. But this army of drunken race fans don't incite civil unrest amongst the population of Adenau town and the surrounding villages. Because like any army, these fans need to sleep, drink and eat. And any loot they take home will be paid for.
The 24-hour race, and the several days of training and support races, are not just part of the calendar. They're part of the lifestyle and part of the economy.
It's amazing to live in the middle of this circus, as I am lucky enough to do. For the past week I've been dodging incredible numbers of lorries dropping off everything from pre-fabricated houses for the BMW 'M' Village to another 50,000 frozen bread buns for the bakery. It's busy, busy, busy, everywhere you look.
Our own very young kids are almost sleeping like normal, even with the night-time qualifying vibrating the German window roller shutters until midnight last night! Racing and noise is just a fact of life here, and anybody with a bit of land or driveway onto a main road seems to be capitalising on it. From lemonade stalls to burger and breakfast vans, there are hundreds of ways to make the most of the 24-hour race.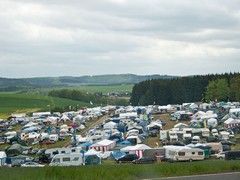 Just one of a hundred or so campsites
My own capitalisation came from my employers supplying over 20 rental cars to the official Nurburgring 24-hour Rookie Training. It doesn't matter if you're a rank Nurburgring novice with a fresh International A licence and not a single lap under your belt, or a seasoned F1 pilot striking off an item on the bucket list; all first-time 24-hour competitors must drive this training course. And to prevent the teams using it as practice, thus devolving the training into a laptime battle, only street-legal cars are allowed. Good news for my employers, and another day of work of work for me!
And at the end of the afternoon I did my own bit for the noise-pollution of the Eifel mountains by going for a lap of the Nordschleife through the campers, smoke and home-made grandstands. Take a look at the occupation of the Nurburgring in the video below.